Moreover, Is having a B.Ed enough to be a GOOD TEACHER?
Well, as a teacher one needs to have the zeal to guide students towards the right and impart knowledge to make them responsible citizens of the country. Today, with a variety of Teacher Training Programs, Workshops, Career Development Courses and much makes it easier for Modern Teachers to enhance their knowledge and skill set as per the needs of the education industry.
Likewise the Central Board of Secondary Education, India has made it mandatory to have a career Counselling wing in schools. As a result, there is a massive need for certified career counsellors to coach students. Progressive schools are eagerly looking out for certified career counsellors and also encouraging their teachers to take up renowned Teacher Training Courses. Most top schools in India are promoting diverse learning and skill set for teachers.
One of the world's leading universities the University of California, Los Angeles Extension (UCLA Extension) has partnered with Univariety, Asia's largest and fastest-growing online based school counselling network. They offer a meticulously designed Teacher Training Course called the Global Career Counsellor Certification.
The Global Career Counselling Certification program is a 40 hours online course with 15+ modules that deep dives into the core of counselling in the K-12 industry.
You make have the following questions like:
Is the certificate credible? Yes.
Does the certificate come from UCLA? Yes.
Will it add value to your resume? Yes, definitely.
Has anyone else taken the course? Yes, 3000+ individuals enrolled.
Will it give you an entire background to start your career as a 'career counsellor'? Yes.
Let's know about it in detail!
Top Benefits of the Global Career Counsellor Certification Course for a Teacher's Career Growth:
Enhances Your Knowledge and Skillset:

As a Teacher, you have already mastered your core subject. The GCC Course helps you gain knowledge about career counselling from various techniques and trends to the best practices today.  Moreover, it covers in detail about possible career choices, colleges to be targeted, admission processes, courses and which exams to take. This top career counselling UCLA certification enables Teachers to hone their skills as a certified career counsellor and in turn assist students in making responsible decisions for their future.

"I feel the knowledge I have gained through the GCC program will immensely help me guide my students to success." – Mr. Khaled Kamel
Your qualification and experience is the key highlight of your resume. A Teacher Training Course or Certification will add an edge to your profile as a knowledgeable and progressive professional. The GCC Course is an internationally recognized certification that will make your CV stand out from the others. It provides you with the tiniest of information that your contemporaries may not have. As an exclusively designed Teacher Training Course, it not only highlights your CV but always gives immense scope for Career Growth in your current organization and opportunities from other schools/companies as well.
"GCC has not just been a great addition to my CV, but also to my life!" – Mr. Joyce Issac
An International Certification program like the GCC Course provides wide exposure to the global education industry. As a Teacher, one not only learns various aspects of career counselling in the education sector but also gains an international certificate that adds a 5-star rating to their profile. UCLA Extension is one of the oldest and renowned universities in the world that directly adds credibility to a Teacher's resume. There are 2 benefits for Teachers with the GCC Course, they receive 2 certificates, one from the UCLA Extension for being a Certified Global Career Counsellor and the other from Univariety as a Green Belt Certified Career Counsellor.
 "I got to learn how career counselling work in countries like the US and gained invaluable insights from the UCLA module." – Mr. Elgine Eddision
Teaching a subject is not enough and with the GCC course, one gets the above-mentioned benefits and scope for career growth. As mentioned before about CBSE's mandatory rule for having a counselling wing in schools, it has resulted in an immense need for more and more career counselors and trained teachers today. There are thousands of schools in India with millions of students who need proper career guidance. The GCC course definitely stands as a growth opportunity for Teachers who are looking to work in progressive schools and guide students towards the right career path. Thus, with the right amount of experience and knowledge, one can also become an Entrepreneur by launching their own Career Counselling venture.
"Case studies focusing on parents and students, showcasing different problems faced by them were my favorite learning tool." – Ms. Hemangini Doshi
Teachers spend most of their time with students at the school. They work towards nurturing the future of the country. How do they get the time to pursue the GCC Course? To make it all the easier, the GCC Course is a 40 hours online-based career counseling course with 15+ modules covering in-depth information about career counselling in the education industry. Teachers can take up this online-based career counseling course in their free time, on weekends, after they finish school, at their own convenient time and place.
"GCC has helped me build up my credibility and improved my efficacy as well. I had the freedom to learn at my own convenient time" – Ms. Gurleen Khaira
Want to enhance your skill set for career growth as a Teacher?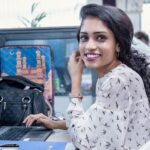 Sukriti is a Hyderabad-based Writer, covering the exciting world of Career Counselling and Entrepreneurship. She also writes about mega-trends in education, diversification for Teachers & other individuals with a focus on how innovation and upskilling can help them grow professionally. She is an MBA in Public Relations & Event Management. When she is not trying to understand complex changes & needs in the counselling and education industry, she enjoys travelling and watching movies with a cup of black ginger tea.