We are all familiar with the saying "when there's a problem, there is a solution too". Most of us believe in this theory and that keeps us going in the most difficult times of our lives. What about those who need some help in understanding this theory? Who needs some guidance in their lives? We are talking about the current generation here.
Most of the students take up science in school followed by engineering in college & later on apply for an MBA. What a valuable package of courses, right? But why do most of the Engineering students opt for an MBA rather than a specialized Masters in their own field? It is because most of the students are unaware of their personalities, interests & desires in life. They are often advised by their parents, siblings or neighbors. Their choices limit either Science, Math or Arts (rarely). Do we blame the Students? Parents? Teachers? Or the School?
Imagine if students and parents could speak to a professional about their career plans and opportunities. Only to get perspective, vision & motivation in return! Wouldn't that be great? Well, let's learn more about it today.
Ever heard of Career Counselling?
Most of you must be having a typical picture of an aged person on a desk with plenty of books and knowledge to share. But that's not what Career Counselling looks like. Career Counselling needs one to be a good listener, a friendly advisor. Someone who can bring out the interest and potential of a candidate and guide him/her towards the right career path.
Let's take one step at a time:
Who can become a Career Counsellor?
The profession has a vast scope in its industry. It offers various kinds & types of services. A Psychologist, Teacher, Administrator, Doctor, Housewife, or Freelancer, anybody can opt for a Career in this industry. If you are confident and have a passion for making someone's life better, the door's open for you!
Do you understand what the job of a Career Counsellor is like?
Two most basic responsibilities are:
Identifying an individual's strength, weakness, opportunity, and threat.
Understanding their interest & desire in life.
How do you stand out of the box? The work of a Career Counsellor is not limited to what we've mentioned above. It requires:
Someone who carries a positive and welcoming attitude

Who can understand and help an individual in identifying his/her own personality type


One who can allow the candidate to trust and blindly open up about his/her thoughts
Which takes us to the NEXT STEP…
Are you a people person? If yes, then Career Counselling awaits you. With the world changing all the time with various career options, there's a major need for Career Counselling these days. It is extremely important to lead the right person to the right path. It helps in simplifying the options that allow them to make a wiser decision. And you as a Career Counsellor can make this happen for them 
Can you do the talk? It is not only about what course you have to offer, or what type of career opportunity is in the trend these days. It is most importantly about listening & understanding the interest and thought of an individual. To be a good listener is all that it takes. That's how you build trust & a strong connection with the Students are sensitive, curious, confused and have multiple thoughts. They need somebody who would accept them and welcome their thoughts.
If you understand the above and believe you have these qualities in you, then you've hit the bullseye. Your dream career is waiting for you. If you believe in contributing to someone's life, then you're not so far away from becoming a great Career Counsellor.
It is the destiny of a few to mentor greatness, here's your chance. With a growing demand for Career Counselling in India, there's a higher scope for you to grow as a professional. Know More About
GCC is Asia's first Global Career Counselling Program in partnership with UCLA Extension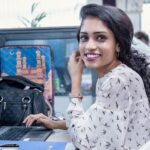 Sukriti is a Hyderabad-based Writer, covering the exciting world of Career Counselling and Entrepreneurship. She also writes about mega-trends in education, diversification for Teachers & other individuals with a focus on how innovation and upskilling can help them grow professionally. She is an MBA in Public Relations & Event Management. When she is not trying to understand complex changes & needs in the counselling and education industry, she enjoys travelling and watching movies with a cup of black ginger tea.