If asked to take a walk down the memory lane into your childhood, what are the first few things you'd remember? Your memories with family, friends, your school, and… TEACHERS!
Teachers play a crucial role in every student's life. They are every student's first guide to academics & career. As a Teacher, one not only is responsible to deliver subject knowledge but also imparts moral values for life. A Teacher's role doesn't end here, their responsibilities vary from student to student based on the relationship they build with them.
Why does a Teacher play a vital role in Student Career Guidance?
Recall your classroom and remember what you initially wanted to become. When a Teacher, Principal, or Parent asks 'What do you want to become in life?' most of us have our answers ready like Astronaut, Pilot, Doctor, Journalist, Teacher, Actor, and so on. Well, the truth is that not all of us end up doing what our first career choices are. Why not? Because of the lack of information and career guidance.
As a Teacher, you already are a career guide to your students. They not only look up to you for the area of the subject you teach but also for their further interests, information around it, and the scope of it for their future. A student learns words like profession, career, college, and success in school, and look up to their teachers for guidance. Since students spend most of their time at school, only a Teacher can know their aspirations better.
How Can a Teacher Help in Student Career Guidance?
Being a Teacher, you already have gone through a student's milestone years. School, Entrances, College, University, and finally landed a Career of your choice. This itself gives you an opportunity to remember your journey and guide the students better.
Having a career conversation during class helps in sharing knowledge, as well as build curiosity among students. This helps them understand their interests and the importance of education and learning from a very young age.
They say 'it is the destiny of few to mentor greatness', and as a Teacher, it is the biggest privilege to guide students towards a brighter future.
Ask yourself if you have the passion for Teaching as a profession and want to guide your students if the answer is yes, there's nothing that can stop you. Consider yourself as one of those Super Teachers who go the extra mile for their student's success.
As a Teacher you can follow these activities to guide your students better:
Conduct a class survey on careers and take up topics in various professions twice a week

While teaching a particular subject, make sure you give some career examples

Make sure you are interacting with your students and show that you are equally interested in their career choices

Talk to their parents about their wards career thoughts during PTMs

Encourage students to research and polish their skillset
Well, the list can go on, but as a professional one must also take up a course that will help in identifying, understanding, and analyzing a student's interests, strength, desire, and behavior.
You must be thinking that you're a teacher and not a Career Counsellor, but why not a Career Counsellor? As a Teacher you already are playing the role of a Career Guide, a smarter thing to do would be a professional training that will enhance your knowledge and skillset to help guide your students better, in return adding immense value to your own professional graph.
Your intention to guide students is 100% sincere, but is it possible to guide an entire class? Or the whole batch for the matter? Here's where a renowned validation will not only provide the above benefits but also give you a 360 degrees exposure to the education industry along with its changing needs.
Ever since the Central Board for Secondary Education has made it mandatory for schools to have Counsellors, progressive schools in India have been eagerly looking for professional & trained career counsellors.
To know more about Career Counselling and the best-suited course.
CLICK HERE To know more about Career Counselling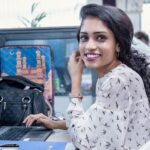 Sukriti is a Hyderabad-based Writer, covering the exciting world of Career Counselling and Entrepreneurship. She also writes about mega-trends in education, diversification for Teachers & other individuals with a focus on how innovation and upskilling can help them grow professionally. She is an MBA in Public Relations & Event Management. When she is not trying to understand complex changes & needs in the counselling and education industry, she enjoys travelling and watching movies with a cup of black ginger tea.