Your resume is the first thing that your recruiter sees. It is the first step toward your future career. Therefore, it's important that your resume should be concise with experience, skills and qualifications.
A career counsellor helps the student or the client in their career journey to success. It invoices multifaceted activities to change the life of a person. It consists of career exploration to make career choices, supporting and guiding career changes. Hence, the job of a career counsellor is not a one-time solution or support. 
Therefore, the resume of a career counsellor should also justify the role. As you know that the role of a career counsellor is too crucial. Thus, the CV of a career counsellor should consist of multiple skills i.e. technical as well as interpersonal skills.   
Young India Calling Career Counsellors
Three Hundred plus Million students in India need career counsellors. One million plus career counsellors are in demand in the country. However, currently, 1.5 million students are supplied with only 500 counsellors. India is a young country because more than sixty per cent of the Indian population is young. India has the largest youth population i.e. more than 808 million people are below the age of 35.
As you know that youngsters are a demanding force in the career counselling field. That increases the career opportunities for trained career counsellors. Emerging career options, new courses, colleges and technology are catalysing the increased demand for career counsellors. Social factors and forces changed the conventional or traditional selection of higher studies and jobs to a scientific study and analysis. Changes in lifestyle, thinking patterns, and economical and industrial transformation raises the need for scientific and systematic career counselling.
Who is Hiring Career Counsellors?
A general look into the current hiring points of career counsellors are:
Schools

Colleges

NGOs

Independent Companies

Consultancies

Staffing Agencies

Overseas Education Agencies
Some Career Counsellors Hiring Companies Refer to LinkedIn
Yangpoo Executive Education

VIBGYOR Group of Schools

Merida Tech Minds (OPC) Pvt Ltd

Sanjay Ghodawnat International School

J

aro Education

CHIREC International School

Silver Fern Education Consultant

IB Career Counsellor

Education Asia

Mentor Knowledge Management PVT LTD
Also Read: How to Convert Your Passion Into Profession?
Jobs of a Career Counsellor
Giving self-insight to a student/client

Providing the best-suited career plan

Being a helping hand as a career guru

Exploring the unexplored areas of skills of the student/client

Guiding to higher studies or careers with the best ROI (Return On Investment)
Think "Stand-Out"
Reading between the above lines of facts and figures the following are to be in mind before the preparation of a resume.
A resume is a short profile written in golden letters. Think stand-out and be stand-out before you start writing a stand-out resume.  A career counsellor is a professional who walks along with a student or a client. A career counsellor's "giving life" and "life-giving" facts in a resume no doubt make it stand out among many as there are "living words".
Do Not Fabricate
A fabricated resume cannot "stand out". Do write only right. A resume should not be a story. Fabricated wording is not the ethic of a career counsellor. He/ She should be true as they are helping others to understand a true "self". You are about to do a job with a human being and not with non-living things. Call yourself as if "a spade is a spade".
Things To Do & Not To Do
Do not imitate

Do not copy

Express your knowledge and skill in your resume

List your experience as a career counsellor

Keep a tag line For Instance, "Making you ready for a career" and " A pathway to career Development"

Meet a professional resume maker only to "format" you

Refer to websites like livecareers.com, icareersolutions.com, jobhero.com
Last But Not Least
A career counsellor's resume should be true and from experience. Before you draft a stand-out resume make yourself stand out in career counselling. Your resume will stand out organically.
Refer yourself to your contacts as a career counsellor and do free services, if possible.

Conduct seminars.

Meet new people.

Make true and meaningful networks.

You will get a stand-out experience from these efforts.

Attend and enhance yourself with career guidance trainers and organizations like Univariety.
Career Counselling by Univariety
"Top Indian School embrace Univariety for Career Counselling in times of Covid".
               –   The Times of India
"Univariety, India's largest career guidance and alumni management platform today announced its unprecedented growth in association with top Indian schools for career guidance programs during the pandemic".
              –  The Times of India
"Univariety's career guidance program is the right move in the right direction at this time. Students have received comprehensive advice and valuable lessons in terms of their careers. They have been able to acquire the right understanding of the education system and the current market scenario. It has also helped children reflect on their abilities and ambitions said Harsha Sarkar, Counsellor at SSRVM School Mumbai".
              –  The Times of India
If you are passionate about guiding students and helping them in making career choices, become a trained career counsellor. In this journey of making your passion your profession, the Global Career Counsellor Program is with you.
The Global Career Counsellor Program is offered by Univariety in collaboration with UCLA Extension. It is an online career counselling program for individuals who wish to become trained career counsellors.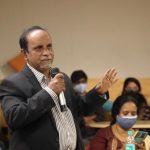 V.K. Anil Kumar is the Founder of Ten Minutes Theory, a motivational Platform for a successful life and the Director of Anil's Career Guidance. Anil is a trained Global Career Counsellor and has presented educational seminars in the Dubai World Trade Centre. He is an author too. Recently his book got published "Ten Minutes a Day to Make A Business Successful" on Amazon Kindle. He also writes for newspapers. He is a co-author of " Crowd Manager " A Solution for Covid 19 Community Spread, International Journal of Innovations and Implementations in Engineering.