One in every three university student is unhappy about the course choices that they have picked. That's like almost half a million unhappy University students! As you can see, that's an alarming statistic. In addition to that, when it is compared to the increasing uncertainty of jobs and diversifying career choices, the prospects might be scary.  Effective career guidance is highly becoming a requisite, not a choice. 
Career Counselling: A Mainstay in Education
Career Counselling is the art of guiding students to their best-fit careers and colleges while keeping in mind their aptitude, interest, and calibre. Another reason why career counselling scores are due to the dire need. 
Career Counselling is the need of the hour and should be provided on a periodic basis for students from Grade 8 onwards.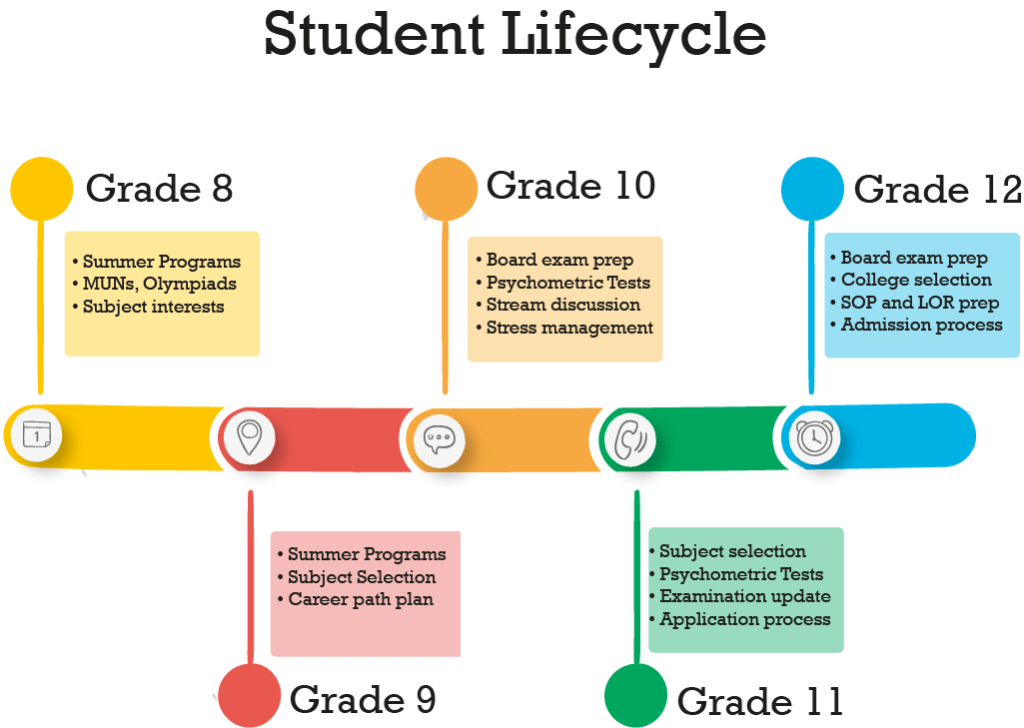 Let us understand the journey of a real-life student from Grade 8 to Grade 12 to understand the role that the best career counselling played in her life.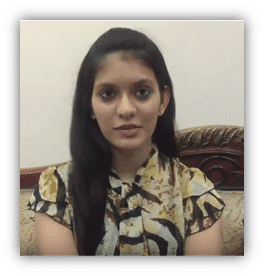 Punya, a student from a leading school In North India was having doubts about which career to pursue from as early as Grade 8. She was a consistent performer in academics and had scored a CGPA of 10 in her Grade 10 Board exams.
Let us understand her journey from Grade 8 onwards and identify the challenges she faced and how she was guided by a responsible career counsellor, Ms. Manmeet Kaur in the right direction.
Grade 8:
Question:

Which activities should I be involved in?
Punya was a budding quizzer and dancer and was confused if her extracurricular and co-curricular choices would help in making her profile stand out.
Her career counsellor, Ms. Manmeet guided her to a range of activities which she could take, some of which were:
Academic Honors: National Talent Search Examination, Rotary Youth Exchange
Co-Curricular activities: The Youth Leader Competition, The Life Skills and Leadership Program
Extracurricular activities: The Green Olympiad, State level Dance Championships
Similarly, with effective intervention, Punya was guided towards making a more diverse profile which highlighted her interests outside of academics. This helped in shaping her personality and developing a portfolio most of her peers only dreamt of. 
Grade 9:
Question: What is the best career option for me?
Punya was a merit student and the puzzling question that was on her mind was which career option would be the best fit for her.
Despite the efforts of her family to analyze various career options, the process didn't bear fruit. Talking to relatives and friends did not help. 

Expert guidance: They understood they need an expert who can guide Punya at her career crossroads.
Ms Manmeet conducted monthly counselling sessions with Punya to know:
Which subjects she was interested in,

What her parent's expectations from her were like

Which programs should she be a part of to build her profile early on
Grade 10:
Question: Do my personality and interests match with my career choice?
Punya's counsellor wanted to give her the much-needed clarity in terms of which courses would suit her. To assist her in making the right decision, Ms. Manmeet sought a Psychometric Test for Punya.
Based on the test undertaken, she was given the requisite counselling sessions to help her identify:
Best Fit Career: Engineering appeared as the best-fit career choice for her.
Extensive Research: She explored the relevant information on various traditional and emerging branches of engineering and decided to pursue Computer Science.
Grade 11:
Question: Which Course, Country, and Entrance Exams should I opt for?
Based on the Psychometric assessments which she was checked on, Ms. Manmeet helped Punya in making the right decisions in Grade 11, as follows:
Subject choice: Non-medical with Physics, Chemistry, Maths and Computer Science with English as the first language.
Country of Choice: Punya was keen to study abroad.  Univariety helped her shortlist USA and Australia as study destinations. Consequently, a  range of factors was taken into account while deciding on the country which included;
Budget preferences,

Parental considerations,

University compatibility & rankings

Future goals.

Entrance Test Guidance: Punya was guided for standardized tests such as SAT/ACT, IELTS, TOEFL, among others.
Class 12:
Question: How should I apply and can I get a scholarship?
Ms Manmeet helped Punya in shortlisting 12 universities and guided her at every step of the application process.
Categorization of colleges: The colleges were shortlisted in 3 broad categories-.Aspiration, Best Fit, and Safe List of colleges.
Scholarship guidance: Punya received a scholarship of $68,000 from DePaul University, USA.
Additional offers:

She also got offers from 9 Universities she applied to.

Result:

Punya enrolled

at the University of New South Wales, Australia for a degree in Computer Science
With the help of this example, the crucial role that a career counsellor plays in the life of a student.
Praise for the Counsellor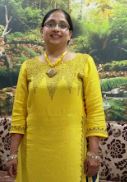 Ms. Manmeet is a Certified Global Career Counsellor from UCLA Extension and Univariety. She has been guiding thousands of school and college students to their best-fit careers.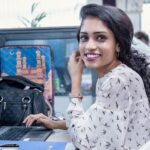 Sukriti is a Hyderabad-based Writer, covering the exciting world of Career Counselling and Entrepreneurship. She also writes about mega-trends in education, diversification for Teachers & other individuals with a focus on how innovation and upskilling can help them grow professionally. She is an MBA in Public Relations & Event Management. When she is not trying to understand complex changes & needs in the counselling and education industry, she enjoys travelling and watching movies with a cup of black ginger tea.