"If you can DREAM it, you can DO it." – Walt Disney
Standing by this quote, Pritee Jain from Delhi is always motivated and helps her candidate's dream big and achieve it. Opportunities are created only when an individual dream and has the will power to fulfill it. It is the drive and passion to achieve something BIG! Similarly, Pritee never waited for opportunities to come her way, she dreamt of them and climbed up the ladder in her own way.  She is not only a Teacher but also a successfully certified Global Career Counsellor in India. Pritee has secured an international certification from the University of California, Los Angeles Extension and a Green Belt Certificate from Univariety.
About Pritee Jain ( Certified Career Counsellor in india )
A strong enthusiast from Delhi with an impressive educational background, Pritee Jain has secured a Master's in English Literature, has a notable amount of experience in the education industry. Pritee's passion to guide students and help them achieve excellence has motivated her to take up career counselling as a career. In addition to teaching students and counselling them, Pritee also trains students in arts (drawing, painting, etc.), language skills (English) and 2D & 3D design and animation. 
"My goal is to help students identify and attain their true potential and guide them to a successful career."
– Pritee Jain, Certified Global Career Counsellor 
Pritee's journey with the Global Career Counsellor Course 
In conversation with Pritee about how did she first find out about the Global Career Counsellor, she said that she heard of it from her sister. Well, it is always good to have references. Pritee's journey as a counsellor has given her an upgrade on her professional graph.
She said, "After the GCC course, I am able to understand and solve my student's problems better". The Global Career Counsellor Certification Course from UCLA Extension and Univariety is an all-in-one guide to the counselling and education industry. It is a 40 hours online course with 15+ modules consisting of every detail that an aspiring Career Counsellor must-have.
Pritee's takeaways from the Global Career Counsellor Course 
"The GCC course introduces us to the importance and need for career counselling. It informs us about the proper methods and tools to be used while counselling a student" she added. Career Counselling is one of the most crucial professions and the job of a career counsellor is not easy. While career counsellor's guide students towards success, they also under the pressure to always provide the right solutions. A career counsellor is expected to always give the right solutions, and that is possible only if a professional is certified, knows the latest tools and techniques, always updated about the industry happenings, etc. 
The GCC course comprises of all the above. It not only provides an international certificate on an individual's resume but also gives hands-on knowledge, tools, best practices and lots more.
"I have learned how to identify a student's problem and provide them with the appropriate solution. It also helps me find a student's interests and skills in order to guide them to hone those skills into successful careers" by Pritee
Global Career Counsellor Course 
The Global Career Counsellor Certification Course is an online course in collaboration with UCLA Extension and Univariety. The program brings together learning from International and Indian Experts in the field of Career Counselling. One does not need to have done various psychology course. Wonder why? The Global Career Counselling Course is an online certification course that covers all aspects of:
Education Psychology

Career Planning

Career Development

School Counselling
 and more…
To have a successful career like Pritee's
Become a Certified Career Counsellor today!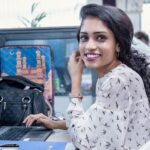 Sukriti is a Hyderabad-based Writer, covering the exciting world of Career Counselling and Entrepreneurship. She also writes about mega-trends in education, diversification for Teachers & other individuals with a focus on how innovation and upskilling can help them grow professionally. She is an MBA in Public Relations & Event Management. When she is not trying to understand complex changes & needs in the counselling and education industry, she enjoys travelling and watching movies with a cup of black ginger tea.