"The only way to do great work is to love what you do. If you haven't found it yet, keep looking. Don't settle" – Steve Jobs
According to this quote, people should do what they like, not what they are forced to. 
But how? The answer is "With the help of career counselling"!
Now, the question comes, what is career counselling?
Career counselling is a long process that helps individuals understand their own self and work trends in order to make them take the right career decisions. This entire process is based on making students comfortable about their career paths, knowing their strengths, weaknesses, likes, dislikes, analyzing their abilities and enlightening them towards the right career path.
It also includes helping parents and making them understand their child's requirements, wishes, and abilities to pursue a career. The process of career counselling also includes resolving conflicts between parents and children.
The professional who is responsible for career counselling is known as a career counsellor or career advisor or career coach. A career counsellor determines the strengths, weaknesses, learning patterns, interests of students and analyzes their abilities to suggest them suitable career path. 
Career counsellors help students find the right board, course, college to study, and they help them the entire pathway to the desired goal.
Currently, 4 out of 5 students need career guidance in their career journey. 
To help students better and in a more effective way, it's important to get trained and have validation to guide them. Parents also look for trained professionals who have enough knowledge about various career options, boards, streams, colleges, courses to choose from, etc. If you are skilled enough, then only parents will believe and trust you as it's a matter of their child's future. 

Why is it Important to be a Trained Career Counsellor?
Training in career counselling is something that makes you understand what actually this profession is, how does it work, how to help students in different situations and it also makes you confident enough to talk to parents & children & give validation to be a professional. There are some other benefits of getting training in career counselling such as:
Improve Skills & Knowledge: A career counselling training program helps you improve your skills & knowledge. You can go through extensive modules, learning material and be informed about all the courses, career opportunities, subjects, and emerging careers as well. The improvements positively affect your productivity too. If you are new to the industry, you can learn work ethics, human relations, how to approach clients, etc.
Prepares You as a Professional: Even if you have been working in the industry for so long, if you are not equipped with 21st-century skills, it might affect your professionalism in the future. The career counselling training programs make you understand what is professionalism, how to start your career as a professional career counsellor, how to talk to students/parents, etc. As a result, you can also think of taking a step ahead and expanding your horizon.
Improves Your Performance: Imagine, if you have limited knowledge and information about any career or course, it will be difficult for you to help students to an extent. You need information, the updated one so that you can easily inform the students about their skills, interests, likes, dislikes, capabilities, and accordingly, you can suggest them a career plan. 
Helps You Enhance Your Reach: As mentioned above, getting training in career counselling helps you think out of the box. When the training is done, you can think of your next step. You are counselling students/parents, it's commendable. However, you need to think about your career upgrade too. You can even start your own career counselling venture. Having your own organization will help you increase your earning potential and expand your network & horizon too.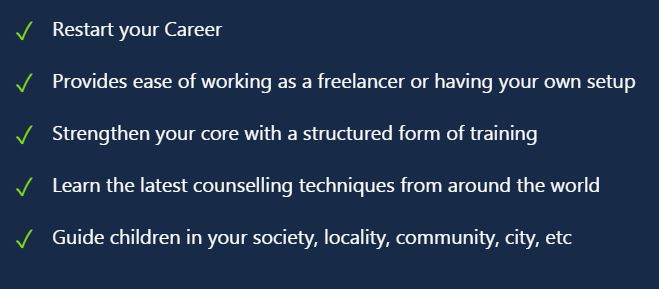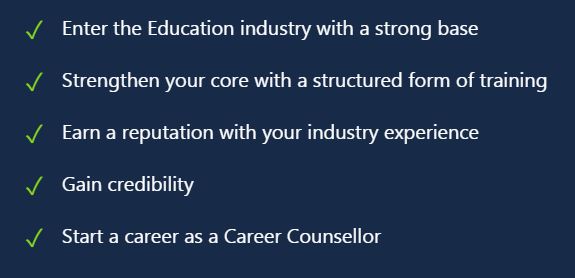 Are You Eligible to Join the Career Counselling Industry or Training?
We, as a decade-old program, have seen countless examples of individuals transforming into successful career counsellors. Despite coming from various educational backgrounds, these professionals had one thing in common – the passion to guide students towards the right career path. If you have the zeal to guide students, you can check your fitment by taking a quick test.
If you are still confused about whether you are eligible to join the career counselling industry or not, get clarity on who can become a career counsellor. 
You can become a career counsellor and upskill yourself whether you are:
Educator

Corporate Professional

Psychologist

Housewife

College Student

Retired Professional
Best Career Guidance Program for Career Counselling
If you are looking for the best career guidance program for career counselling & upskilling yourself as a professional, the Global Career Counsellor Program by Univariety in collaboration with UCLA Extension can help you. It is an industry-ready online career counselling platform that equips individuals with 21st-century career counselling skills.  
The Global Career Counsellor program is most preferred by India's leading schools, universities, and individual professionals. This online career guidance program is a comprehensive guide that covers best practices, techniques and trends in the domain of career counselling. A Global Career Counsellor knows how to fulfil parent and student expectations. With the help of this program, you can upskill yourself as a professional and help children/parents in a more effective way. 
Why the Global Career Counsellor Program is the Best Career Counselling Training Program?
The Global Career Counsellor Progam is Asia's 1st comprehensive online program for individuals passionate about career counselling. It is one of its kind career counselling course that helps individuals learn advanced methods of career counselling. The program is known for its:
Blended Learning

Exposure to Counselling Products

Workshops & Webinar

Convocation Ceremony

Real-time Industry Updates

Recognized by UCLA Extension
After completing the program, you will be receiving Green Belt Certificate from Univariety & a Record of Participation from the UCLA Extension. After getting the training, you can:
Help Students with Better Career Decisions

Give Career Guidance On Stream & Course Selection

Gain Knowledge On Entrance Exams & Admission Processes

Know How to Reduce Students/Parents Anxiety

Get Parents & Students Satisfied
Not only this, the program offers so much more even after completing it. 
What After Completing the Global Career Counsellor Program?
If you think that after completing this career counselling course, you have nothing more new to learn, wait, we have something for you! 
Join Inner Circle: Inner Circle is an exclusive and private community of the Global Career Counsellors alumni. It is a well-structured community where our alumni engage with new people, ask questions, answer questions, get mentored, mentor someone, learn and earn at the same time. 
LIVE University Webinars: We keep inviting reputed university representatives and conducting live webinars and workshops for our career counsellors to enhance their knowledge and equip them with the latest information.
WhatsApp & Email Communication: Dealing with lakhs of students for several years, we come across various questions of students about courses, career choices, internships, etc. We collect these questions, our experienced career counsellors answer them and then we share them among our alumni through WhatsApp and emails. 
Counsellor Support Program: This career counselling program provides opportunities to selected candidates to partner with Univariety and work part-time or full-time. 
Empanelled Counsellor Program: This program offers access to various relevant products and services that help career coaches in finding their students' interests, skills, potential and creating a customized road map. They can refer the relevant products and services to their clients, help them and earn at the same time.
To know more, you can read the blog on what after completing the Global Career Counsellor program.
If you are keen to learn advanced career counselling skills or want to enter the recession-proof career counselling industry, become a trained Global Career Counsellor.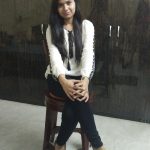 Parul is an enthusiast writer, currently working at Univariety. Despite being from a technical educational background, she started her career in writing because of her passion. She loves sketching and doodling while enjoying a cup of black coffee. When she is not writing, she likes watching movies, travelling, and exploring new places.