Career Counsellors are the professionals who help people to achieve their dreams irrespective of their age groups, education and experience levels. They guide them through the best-suited career options according to their calibre and liking. 
Though it's a noble profession, many people want to help students and are passionate about it. However, they hesitate to join career counselling because of some misconceptions. Some of them take a step back because they feel that they don't have the relevant degree or prior work experience.
However, this should not be the case. If you have the relevant educational background or experience, it's an advantage. But if you want to start fresh, it's possible too.
If you have this question that can I become a career counsellor, read this blog carefully. You will receive all your answers here.
Who can become a Career Counsellor
Despite coming from various educational or professional backgrounds, if you are passionate about guiding students towards the right career path. Congratulations! You can become a career counsellor. Let's go through who else can become a career counsellor.
Educators
Considering the stats, just 8% of students receive career guidance in schools and almost 86% of high school students are concerned about their higher education options. That means many students need to be guided at the school level so that they don't end being confused about their career paths. 
What if a teacher could guide their students for achieving their dreams. Yes, it's possible. If you are an educator, you can easily become a career counsellor. Being a career coach is an additional advantage for teachers. They already have a network and clientele base. What they need is to be skilled career counsellors. 
Teachers can guide students through the right career direction and earn credibility as a professional too.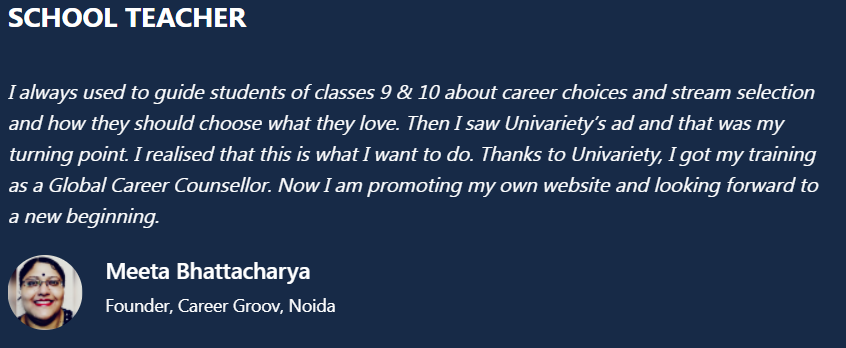 Psychologists
Counselling Psychology in India has evolved in the last 2 decades. As a psychologist, you interact with different kinds of people across age groups and career counselling will be a feather in your cap. You are a psychology professional and if you have an additional advantage of being a career counsellor, this could enhance your clientele and reflect in your income too. You can diversity your career and expand your services by offering comprehensive career counselling solutions.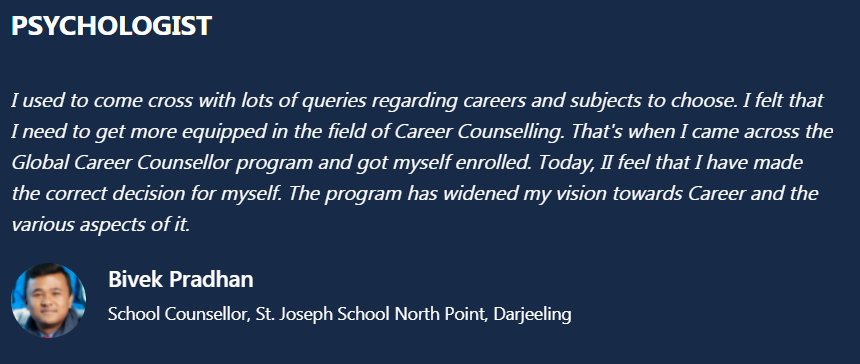 Housewives
If you are a homemaker and you think about how to start your career, career counselling is the best way. Even if you don't join this industry as a full-time professional, you can work as a part-time career counsellor. For people who want work-life balance, this profession is the best-suited one. Even if you are interested in starting your own career counselling venture, you can do that easily.
Recommended Read: Career Counselling as a Profession in India
Corporate Professionals
Many corporate professionals change their careers. The reason could be anything, whether they are not satisfied with the work, want a change in their careers, are not happy with the income or anything else. There are people who have a great position in the corporate industry, the good income also. But there is something that makes them transform their careers.
If you are a corporate professional and want to join a satisfying career, career counselling is the best choice. You can strengthen your professionalism core, earn reputation with your experience, and gain credibility too.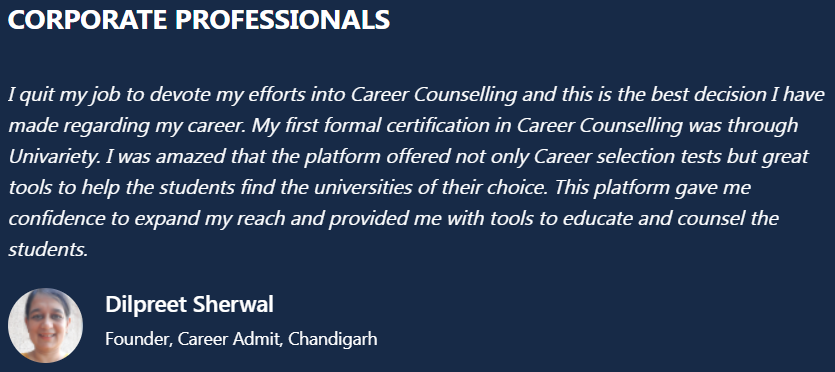 Retired Professionals
People think that once they retire, it's tough to join any industry as a professional and start fresh. This is all myth. There are multiple examples of people who have started their careers fresh after retirement. 
Since the education field is a flexible one, people who are interested in guiding students in making career choices can easily become career counsellors irrespective of age. They can enter this profession with a strong base, earn a reputation with experience, gain credibility and learn career counselling skills easily. 

College Students
Career counselling is not only for professionals or homemakers but college students can also kick-start their careers by becoming skilled career counsellors. Right after their education, if they want to start their career as a career coach, they can easily do it. College pass-outs can give their career an extra wing to fly by joining this industry and have a pumped-up start. 

Despite coming from various educational backgrounds, if you are passionate about guiding students towards the right career path, you can become a career counsellor. To gain more knowledge and credibility as a career counsellor, get validation and become a Global Career Counsellor. Hope you have got your answer about who can become a career counsellor.
If you have the zeal to guide students, you can become a Global Career Counsellor. It is an online career counselling program by Univariety in collaboration with UCLA Extension. The program gives an edge to career counselling professionals by providing them with enough knowledge, blended learning, industry-experts sessions, webinars, workshops, and more. You can learn with us and increase your knowledge even after completing the program by joining the Inner Circle, the Facebook community only for the Global Career Counsellor Program alumni. Here, you can share your thoughts, ask questions and grab earning opportunities too. 
Speak to Our Expert Advisor to Know More About the Program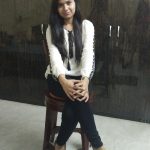 Parul is an enthusiast writer, currently working at Univariety. Despite being from a technical educational background, she started her career in writing because of her passion. She loves sketching and doodling while enjoying a cup of black coffee. When she is not writing, she likes watching movies, travelling, and exploring new places.