On July 29th, 2020, the Indian Education System noticed a historical decision made by the Union Cabinet, the New Education Policy. On this day, the Ministry of Education announced the major reforms in the educational structure under the newly laid National Education Policy (NEP) 2020.
Education policies are usually revised every few decades. The first came in 1968, the second in 1986, and the third reformation of the Indian education culture was seen in 2020.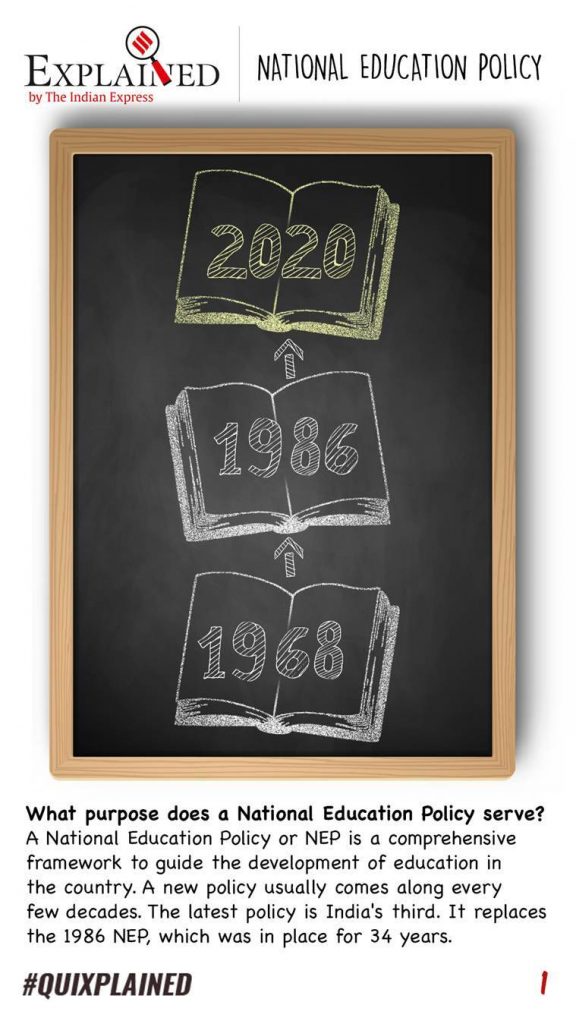 NEP is the first inclusive, participatory, and holistic approach that reforms the existing educational structure. This new education policy 2020 takes into consideration different fields like experiences, empirical research, stakeholder feedback, and lessons from best practices.
It is a progressive shift and if implemented in its true vision, this new education structure can bring India at par with the leading countries of the world.
From students, parents, to teachers, everyone will be affected by the changes in the education system. Let's understand the key changes that this new education policy proposes.
Table of Contents:
What are the Key Takeaways of NEP 2020?
The objective of this reformation of the Indian education system is "No child will be left behind".  It is intended to fill the gaps in the current education scenario. So, we can say, NEP 2020 is brought for the 'learning to learn' approach. 
Highlights of the new education policy:
The present school system will be divided into 5 + 3 + 3 + 4 stages as Foundation, Preparatory, Middle & Secondary respectively.

Mother tongue or regional language will be taught up to at least class 5.

Vocational education will be integrated from class 6 with 10 days of mandatory internship.

National Testing Agency will conduct SAT-Like college entrance tests twice a year.

Students will be benefitted with a 4-Year multi-disciplinary bachelor's program. 

Mid-term drop-out students will be able to complete the degree after a break.

Foreign colleges could enter India, and Indian universities would go global.
These will be some changes in the existing education policy to bring out the best in oneself, be it any field of study. It can surely make India a global knowledge superpower.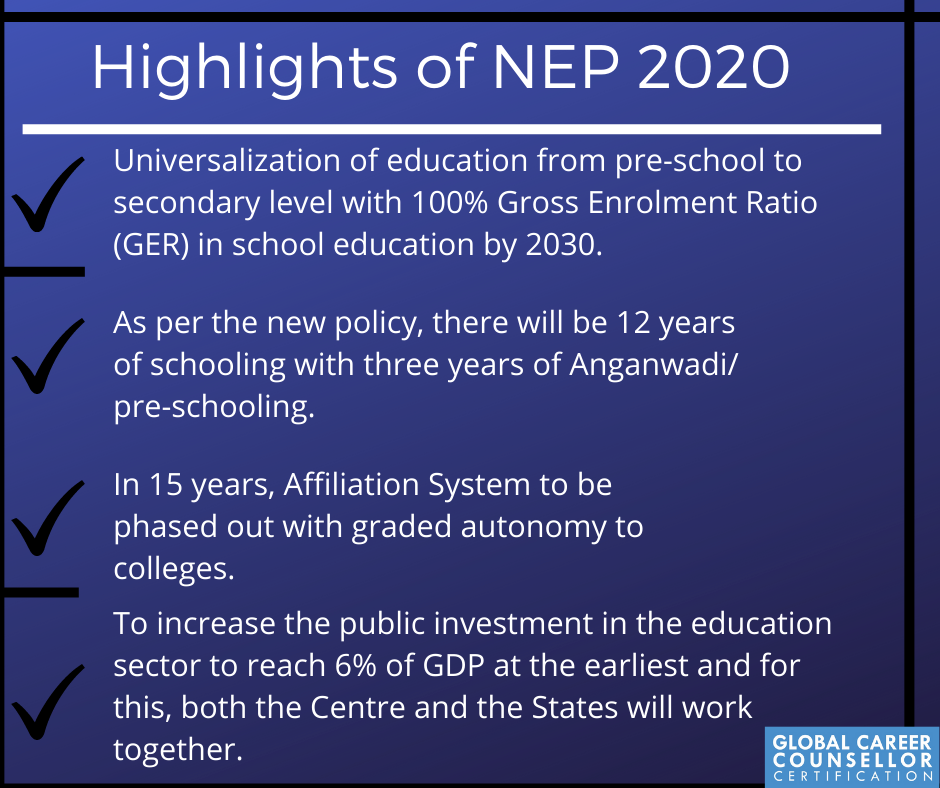 Impact of

New Education Policy (

NEP) 2020
This national policy on education will impact billions of lives. But the two major segments that would be affected are 'Students and Teachers'.
So, let's understand the impact of this new education policy on the students and teachers: 
Impact on Students: 
NEP 2020 will open up new learning opportunities to the students. Its biggest impact would be the change in the learning environment and the learning process for the students. The new education policy will:
Increase focus on the skill improvement and competency development of the students.

Make the students future-ready by building 21st-century skills.

Make students focus on both academic and non-academic pursuits.

Provide various learning opportunities for pre-primary, open, and distance-learning students.

Give access to counselling and other services for students.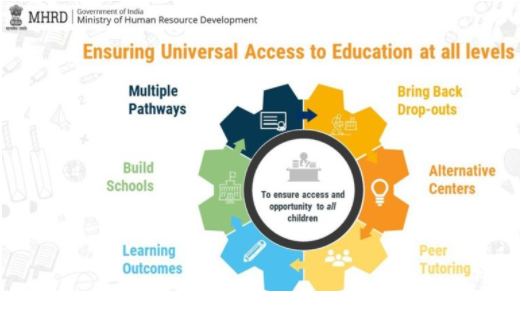 Nearly 30% of students in India drop out after grade 10 – as per KPMG's report.
Therefore, this new national policy on education will also provide multiple exit options for mid-term drop-out students with 1 year of training or 2 years of Diploma. 
With so many growing opportunities, students' curiosity and confusion will also grow. So, they are suggested to take the help of the experts and professionals in making the right career decisions.
The first expert the students come across is the Teacher. Hence, the Indian government has something to offer for the teachers as well. 
Impact on Teachers: 
13% of secondary school teachers in India are not professionally skilled – as per KPMG's report.
Therefore, the Government of India has decided to make their teachers more skilled and equipped with futuristic teaching skills. See what teachers will get from the new education policy: 
Introduction of professional teaching standards.

Clearer outlined roles and responsibilities. 

Training to monitor and improve their capabilities.

More focus on 21st-century teaching skills.

A transparent recruitment and selection process for teachers to motivate them and improve their performance.
Education is not about loading a child with information. It is to develop the body and the mind to the highest possible capability. – Anonymous 
Teachers not only guide the students for their academic excellence but also mentor them in taking the right career decisions. Therefore, they should equip themselves with new-age teaching methods.
To cope up with the advanced teaching skills and understand the current teaching trends, teachers can enrol in 'Teach Online – Tools for a Digital Age' offered by Univariety.  It is a 6 hours customized course for those teachers who want to adapt to the latest and newer ways of teaching. 
Role of Teachers as Career Counsellors
Students do not only look up to the teachers for course completion but also expect guidance for their further future interests. They spend most of the time in schools and that's why no one can understand their aspirations better than teachers. 
Teachers are their first career guides. They advise students to choose the right course, right subjects, correct stream, improve their academic scores, and most importantly, make them able to take the correct career path. 
To assist students and fulfil these major responsibilities, teachers need to be trained and informed in the areas of career counselling. 
To get equipped with the advanced career guidance skills and excel in the area of advising students, teachers should enrol in the Global Career Counsellor program by Univariety in collaboration with UCLA Extension. This is an all-in-one guide for teachers and counsellors to learn about career counselling from techniques and trends to the best practices.
CLICK HERE to speak to our expert advisor about the Global Career Counsellor program.
How can You as a Career Counsellor Help Students?
What is the new education policy?
What is the purpose of the new education policy?
When will NEP 2020 be implemented?
What changes are in the new National Education Policy 2020?
New Education Policy 2020 

Key Differences 

Factors
Existing Educational Structure
New Educational Structure
Streams

3 Major Streams




– Science




– Arts




– Commerce

No Hard Separation of Stream

Pedagogical Structure

10+2+3

5+3+3+4

Board Exams

Based on Memorizing Facts & Used to Held Once a Year

Based on Core Competencies & will be Held Twice a Year

Degree Completion

A Degree will be Provided After 3 or 4 Years

Multiple Exit Options with 1 Year of Training & 2 Years of Diploma

Vocational Studies

Nil

From Class 6 with Internship

Scores

Based on Obtained Marks

Based on 360 Degree Performance Evaluation

Entrance Test

Multiple

Single 
Students have so much confusion regarding this new education policy, like: 
How can they cope-up with the new education trends?
Which course to choose? Which subject to choose? and more.
Here's a panel discussion between industry experts on NEP: 2020 – Role of a Career Counsellor. 
Being a teacher, you are responsible for answering all these questions. You can assist students in various ways. Some are mentioned here:
Personality Type Assessment: This is the best way to find out how students naturally see the world and make decisions. This personality type test lets you know the natural predispositions and tendencies of the students. Assess with a non-judgmental approach and understand the potential challenges the student is facing. 
Multiple Intelligence Tests: With this test, you can match the students' intelligence to the best fit careers. You can assess the ability of students in terms of grasping power, intelligence quotient, and other factors to analyze the students' capabilities.
Learning Style Tests: This test helps you understand how the students want to learn and how they find learning interesting. It analyses the learning preferences of students and reveals how they prefer to study, concentrate, and learn.
Stream Selection: Once, the students are promoted to class 10, this is the first question they ask the teachers. What stream to choose? 
Teachers should determine the verbal, numerical, clerical, spatial, and reasoning aptitude of the students. Based on the results, you can suggest the most suitable stream for the students.
Understand their interests, strengths, and weaknesses to determine their ability and then suggest which stream is the best one to study. 
Subject Selection: Once, the stream selection is done, students ask about the subject selection. In one stream, you find endless possibilities of the subject combinations. All you have to do is help students with what is best suited for them. Use your experience and skills to guide students in choosing the right career path.
Summing it Up
The new education policy 2020 aims to overhaul India's existing education regime and make it more learning-centric. Students will be provided with the best opportunity to learn research-based learning. Teachers will be given the chance to learn advanced teaching skills. 
To help students and make them understand the new education policy, teachers should develop counselling and career guiding skills. 
Also Read: NEP 2020: Role of a Career Counsellor
CLICK HERE to know more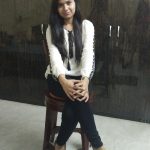 Parul is an enthusiast writer, currently working at Univariety. Despite being from a technical educational background, she started her career in writing because of her passion. She loves sketching and doodling while enjoying a cup of black coffee. When she is not writing, she likes watching movies, travelling, and exploring new places.