Just think about the days when you graduated or passed your college or school. That thought spreads a smile on your face and makes you cheerful. With this belief, we, the team of Univariety and Global Career Counsellor Program organized 2020's second E-Convocation on November 21, 2020, Saturday. The event was held over a ZOOM call in which more than 270 Global Career Counsellor Program trained graduates took part with their family and friends.
Read about the July 2020 Global Career Counsellors E-Convocation

here.
We understand that these kinds of events don't just offer new opportunities to learn but also help build new relationships and establish connections. That's why we organize such events for our graduated batches of career counsellors to connect and express their heartwarming feelings with everyone. 
It was wonderful to see people from different professional backgrounds come up to celebrate this event. We were thrilled with this kind of response and cannot wait to organize such events more often. 

For the better guidance of our trained career counsellors, we invited some of the most reputed and experienced people from the field of career counselling and education for this event. It was an honour to have such inspiring industry leaders who shared their thoughts and experiences with the graduating cohort. 
 November '20 Global Career Counsellors E-Convocation: Highlights 
Meet the Industry Leaders

Opening Keynote
The event started with the opening keynote of a person who understood the need for career counsellors and has been constantly trying to bring a change in the career guidance system in India. He is the man who has been making efforts in helping students to find the right career path and get the correct professional career guidance as per their interests. 
With 17 years of experience in Financial Planning, Consulting, and Transaction Advisory, Mr. Jaideep Gupta, the Founder and CEO of Univariety, brought about the change in the career counselling industry in India. Having an educational background and understanding the need for counselling for students, he is working hard to lighten up the career planning struggle of students through Univariety. 
Univariety was established in the year 2015 and since then has been working as India's foremost Career Counselling, Guidance, and College Planning platform. The company not only helps students, parents, and teachers but also supports the career of the counsellors. Four years ago, Univariety launched the Global Career Counsellor program in collaboration with UCLA Extension.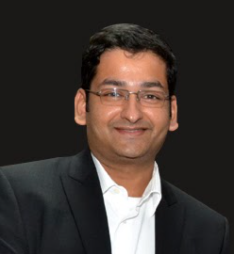 In Jaideep's words, "Our vision is to see a trusted counsellor in every locality, in every community. Why should it just be restricted inside a school." 
In the session, he explained his journey from his childhood to establishing Univariety. How education played an important role in his life and how the idea of establishing Univariety came from it. He also discussed the condition of career counselling and counsellors in India. In his discussion with our graduates, Jaideep explained that technology and in-person counselling can help students in getting their career path right. 
Convocation Address
We also had the privilege to hear a convocation address by Denis Couturier, The Director of Custom Programs & Corporate Education at UCLA Extension. With more than 10 years of experience in higher education organizations, Denis is working as an accomplished leader and helping more than 40,000 students of diverse cultures. 
He began his career as a Director of Community Services and soon became one of the youngest leaders in Quebec Province's public college system in Canada. Denis has been associated with Univariety for quite a long time and we are glad that he took out some time from his schedule to congratulate our career counsellors.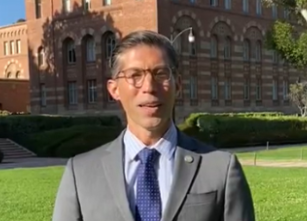 In his words, "In this ever-changing world where technology is enhancing every day, continuous learning is more important and this is why I support Univariety with its Global Career Counsellor program to enhance the skills of career counsellors ".
Dennis was looking forward to meet up with our counsellors virtually, but it couldn't happen. So, he sent a video message to everyone. The video message contains his heartwarming words full of encouragement for the newly trained counsellors. 
Commencement Speech
We thank our special guest Dr. Giridhar P. Kini, Director-Admissions at Manipal Academy of Higher Education for sharing his experiences. He has been associated with the Manipal Group for more than 20 years.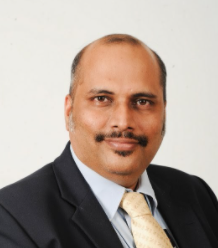 In his session, Dr. Kini spoke about various aspects related to career counselling. He explained the condition of career counselling in the country and also spoke of the importance of having a clear vision when counselling any student or parent. It was an extremely insightful session and we are sure that like us, the counsellors in the group also found it enriching. 
According to Dr. Kini, "Counsellors have a very important role to play in the learning & growth of a child right from 8th standard onwards." Therefore, he shared some tips with our counsellors to bring some more clarity on career counselling. 
Valedictory Speech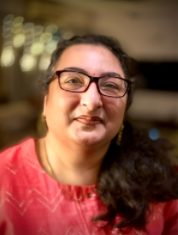 At last, one of our own GCC alumni Ms. Ritu Wason, the Founder and CEO at Educross Roads Consulting, joined us to share her journey and experience with the fresh batch of graduates. She described counsellors as "The Community of self driven and passionate professionals who mentor & guide the youth of today for a better future of humanity". It was a pleasure to see her enthusiasm for meeting our graduates and sharing her story with them. 
Celebrate the Graduating Cohort – Launch of "Inner Circle"
What better way to celebrate this journey than providing a platform that connects our alumni from across the globe. Therefore, the team behind Univariety and Global Career Counsellor Program launched the "Inner Circle – Alumni of Global Career Counsellor", a private community on Facebook only for Global Career Counsellor graduates. This platform is made for our counsellors and will be led by our counsellors. Here, they can share their experiences, stories, and ask for suggestions to collaborate. 
Also, as it was not possible to meet up with everybody physically, we created a small something for the graduating cohort! 
Global Career Counsellor Program – Audience Poll
During this E-Convocation, we posed a few questions to our Global Career Counsellors and we are more than happy to share the responses with you.
1. First, we asked them to describe the Global Career Counsellor Program in One Word. You can see the response here: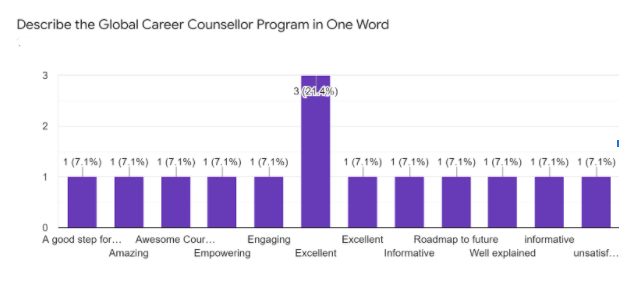 2. Then we asked about the course's content. We were overwhelmed with the answers as people are really happy with our content – the majority rated it 5 out of 5!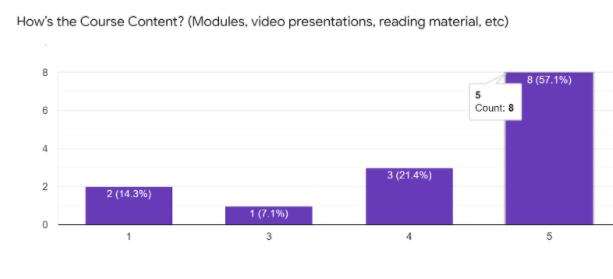 3. We also asked people their opinion about the flexibility of the course. See what people have said about it.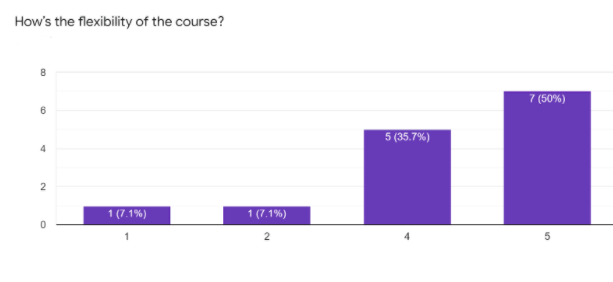 4. Coming to recommendations of the Global Career Counsellor course, more than 92% of graduating counsellors are ready to recommend this course to their friends & family.

Conclusion
We are content in the reinforced belief that the Global Career Counsellor program makes a real difference in the lives of those who undertake it. This Global Career Counsellor E-Convocation made us realize that we are on the correct path in helping people with their careers. We will continue to work hard to connect with our counsellors and bring them upskilling and networking opportunities on a larger scale.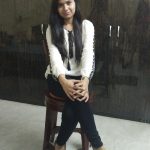 Parul is an enthusiast writer, currently working at Univariety. Despite being from a technical educational background, she started her career in writing because of her passion. She loves sketching and doodling while enjoying a cup of black coffee. When she is not writing, she likes watching movies, travelling, and exploring new places.