They say your network is your net worth. And that's true! Almost 99% of professionals agree that having an inner circle is extremely important and beneficial for business growth and professional development.
Therefore, we took an initiative to launch the Inner Circle – Alumni of Global Career Counsellor on 21st November 2020. The Inner Circle on Facebook is an exclusive and private community of trained Green Belt Global Career Counsellors offered by Univariety in collaboration with UCLA Extension.
About The Inner Circle – Alumni Of Global Career Counsellor
The Inner Circle – Alumni of Global Career Counsellor is India's largest career counselling network online. The objective behind creating a network of trained Global Career Counsellors was to bring together professionals from varied backgrounds and experience levels, to foster an atmosphere of continuous learning, collaboration and support. 
Most of you must have heard and watched Terence Thomas Kevin O'Leary, popularly known as Kevin O'Leary, who is a Canadian businessman, author, politician, and television personality. He is the executive producer of a famous show called the Shark Tank where aspiring entrepreneurs from around the world pitch their business models to a panel of investors and persuade them to invest money in their idea.
We couldn't stress enough on how important it is to be a part of a community and build a network for yourself. Here's a pep talk by Kevin O'Leary in conversation with Anthony Scaramucci, where he mentions that "network is invaluable". 
What Does It Mean To Be A Part Of This Community?
Going by our mantra, 'Connect. Engage. Learn', we put together a structure for our trained candidates to follow.
Areas of Expertise & Learning amongst Members of the Community Include: 
Preparing students for Indian and International competitive exams 

Guiding students aspiring for selective careers like Engineering / Medicine / Business 

How to get admission in Ivy League Colleges

Learning about alternative and new-age careers

Counselling students who are taking a gap year, looking for scholarships, and more
Types of Members 
Green Belt: Candidates become a Green Belt Inner Circle member upon completing the Global Career Counsellor program.  
Black Belt: Experienced members are carefully chosen to mentor the community on important topics. These members participate and organize their own events and sessions within the Inner Circle. 
We have partnered with some of the best minds in the Education and Counselling industry. Proud to introduce the Black Belt members of the Inner Circle – Alumni of Global Career Counsellor. These professionals have been invited to mentor our private community on important topics related to higher education, students and parents. In the coming months, we will also see more leaders join us as Black Belt members.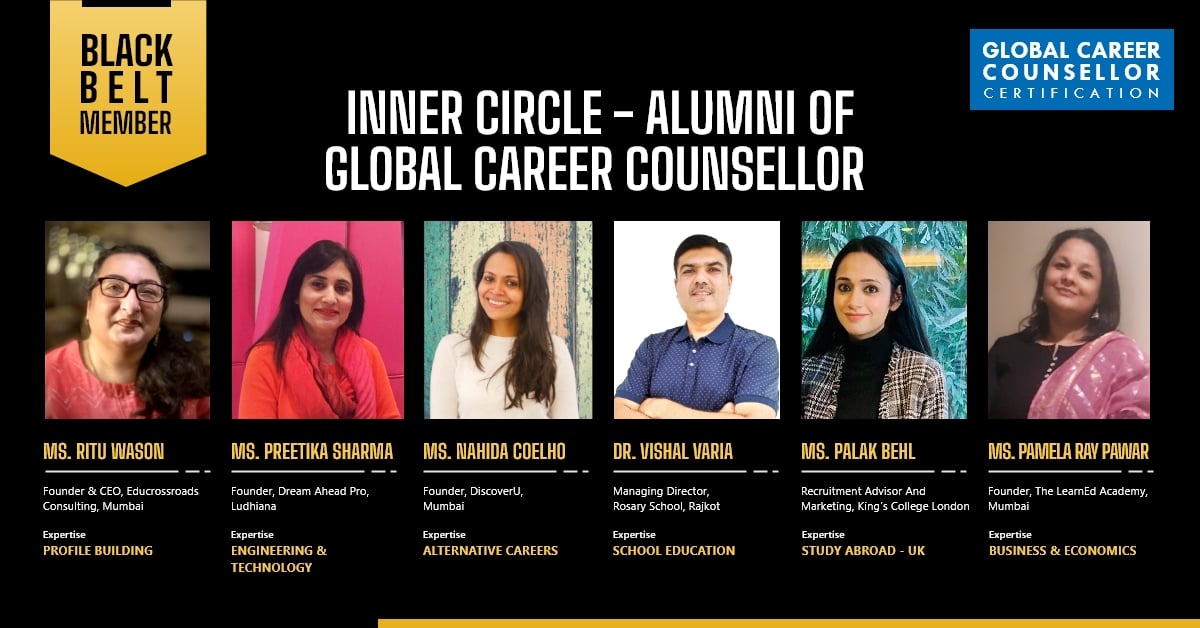 Download Dossier to know more about the Black Belt Membership.
Snapshots from the Inner Circle
Session on Alternative Careers by Ms. Nahida Coelho, Black Belt Member and Founder of DiscoverU, Mumbai.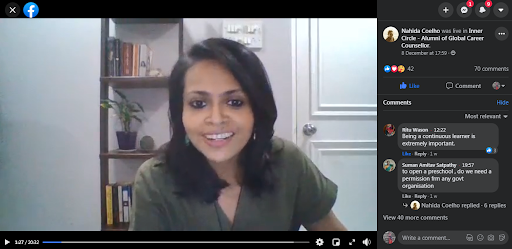 We can proudly say that the Inner Circle an ever-growing family of 650+ professionals who are passionate about career counselling and bringing a change in the society. 
How can you join the Inner Circle – Alumni of Global Career Counsellor? 
Mention the email id with which you are registered for the course

Mention the date and year of completing your course 
If you are a trained Global Career Counsellor, don't miss out on this amazing opportunity. Like said in the beginning, your network is your net worth!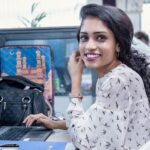 Sukriti is a Hyderabad-based Writer, covering the exciting world of Career Counselling and Entrepreneurship. She also writes about mega-trends in education, diversification for Teachers & other individuals with a focus on how innovation and upskilling can help them grow professionally. She is an MBA in Public Relations & Event Management. When she is not trying to understand complex changes & needs in the counselling and education industry, she enjoys travelling and watching movies with a cup of black ginger tea.