How can an international Counselor program add value to my CV?
Well, we are all constantly competing with one another in this digital era. Today, education has become a need to survive, but there's always more than the economic sector demands.
If you are a Psychologist, Teacher, Counsellor, or any other industry professional, having training can make a big difference in how you are perceived and measured against your competitors. Earning knowledge that gives you an edge over other professionals at any given time or stage of your career.  
Online program come with a set of unique advantages, personally and professionally.  It can help you in landing a job or get a promotion, professional development and more.
Hence, one of the world's top universities, the University of California Los Angeles, Extension (UCLA Extension) established in 1917 is known for its exclusive programs and successful candidates.

The Global Career Counsellor Program is one of the most sought after courses offered by the UCLA Extension. With over 3000+ candidates already enrolled for the Global Career Counsellor Program, it has become a must-have training for Teachers, Counsellors, Educators and any professional who wants to have a career in the counselling industry.

Besides being an exclusive course by the UCLA Extension, the Global Career Counsellor Program is a premium international training available ONLINE only. The all-encompassing course covers the nuances of career counselling, right from the most effective counselling techniques, the best practices of the industry and the trends that are currently shaping the field.
Benefits of the UCLA Extension's Global Career Counsellor Program:
Benefit 1: An edge to your CV
As they say, 'learning never stops', the GCC training gives you immense knowledge about the education and career counselling industry. The international training program acts as a validation to your knowledge with a globally recognized name like the UCLA Extension. It provides an authentic international program that recognizes you as a Trained Career Counsellor. 
Benefit 2: Professional Development:
The program plays a major role in scaling up your career as a Career Counsellor. It equips you with the required skillsets to set you apart from the regular counsellors. The field of knowledge includes everything, right from career options, the college application process, course structures and other aspects of the education field. Therefore, GCC Program can make you fully capable of navigating a student and fostering his/her smooth transition from school to college.
Benefit 3: Fast-track your career:
The online course helps you gain global recognition with a well-recognized name – the UCLA Extension. It guides you in offering your expertise better to students, parents and/or institutions. The course covers deep insights that help you stay ahead of the game by sharing all the latest updates in the field of education, along with new updates in career counselling.
Benefit 4: Member of an International Community

–
With 3000+ candidates enrolled with the course, it gives you an opportunity to connect and learn from the GCC community. An international training program always holds weight-age as compared to other professional courses. 
Benefit 5: Flexible Timing:
For most of you who are heavily occupied during the day, can take the GCC course at your own convenient time. This eliminates the hassle of going to a regular college/ institute to pursue a program. There is a myriad of benefits when it comes to pursuing an online course
Benefit 6: Real-Life Example:
The Global Career Counsellor Program by UCLA Extension doesn't limit its dimensions for bright people like you. One could be a Freelancer, Housewife, working as a Manager in an MNC or running a Business. Every year zillions of schools and parents need Career Counsellors to guide their children towards a better future. Ever since CBSE has made it mandatory for schools to have a career counselling wing, the demand for Career Counsellors, School Counsellors, Career Coach, Academic Counsellors has increased rapidly.
Here's Mrs. Sonia Prasad, Head Counsellor at the Oakridge Group of Schools sharing her experience of the course and journey in the education industry
What are you waiting for? Grab this opportunity to earn an international validation today!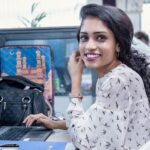 Sukriti is a Hyderabad-based Writer, covering the exciting world of Career Counselling and Entrepreneurship. She also writes about mega-trends in education, diversification for Teachers & other individuals with a focus on how innovation and upskilling can help them grow professionally. She is an MBA in Public Relations & Event Management. When she is not trying to understand complex changes & needs in the counselling and education industry, she enjoys travelling and watching movies with a cup of black ginger tea.