You must be wondering, a role model for a student? Is it necessary? Does it make a difference? Generally, people have questions about the importance of a role model in a student's life.
Surprisingly, yes! 
A role model plays an important role in a student's life.
Let's understand how?
When we were kids and people used to ask us what we wanted to be, there was always an image that used to come into our minds. That image was of a person whom we admired for his/her qualities, presence, way of speaking, etc. That person could be anyone, a family member, a movie star, a politician, or a sports player. We always wanted to be like him/her, hence, we used to end up imitating that person and try to follow everything that he/she did. 
What do we call that person that we admire the most? 
"Our Role Model or our Idol"
As we had someone to look up to in our childhood, every student should also have someone who can show them a direction in life. A person whose values and actions they can emulate. A role model who can guide them and show the way to become a successful person.
Table of Contents
Who is a Role Model?
Going by the book, a role model is a person who sets an example for everyone through his/her actions and activities.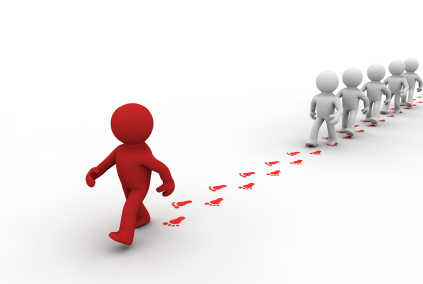 He/she is someone who does something worth admiring. A person who influences everyone to do something better in life and directs them on how to go about it. 
An idol serves as an example for inspiring & motivating people and uncovering the way to their success. One can identify his/her inner potentials and understand how to work on his/her weaknesses by following a role model.
That's why a student must have a role model who can inspire him to excel in life.
How to Identify a Good Role Model?
There are some characteristics that your students can look for in a role model. Tell them to:
Make a list of the qualities they want to achieve.

Identify people who exhibit the same qualities.

They could choose someone who excels in a particular area that they wish to emulate. 

They could go for people who have done something they find admirable.

Someone who could help them in becoming a better version of themselves.
Recommended Read: Stream Selection After 10th: 9 Tips to Guide Students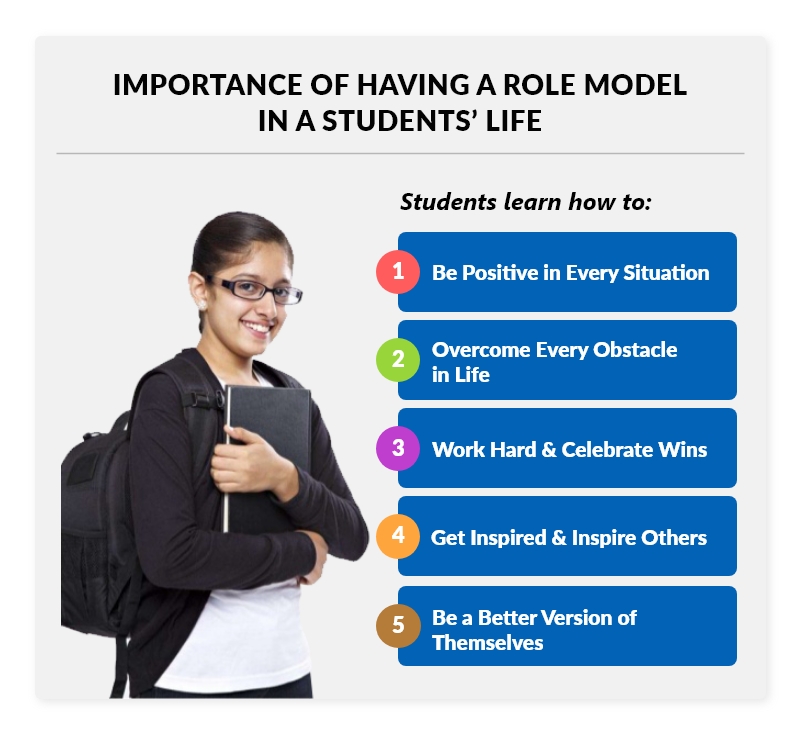 Importance of Role Model for Your Student
For career counsellors, one of the most important things is to make students comfortable. Despite bombarding students with serious and intense question, you could start the conversation with some light and friendly questions like tell me about yourself or which is your favourite movie or what is your favourite vacation destination or even who is your role model?
If your student has a role model, you could start with the conversation. If not, the first thing you could do is make them understand the importance of role model. 
While everyone may have a different opinion on the importance of role model, here are a few points with which most people agree. The students could:
Learn From Their Mistakes: Everyone makes mistakes. No one is perfect in everything, not even our role models. But mistakes of role models could also act as learnings.
When a role model commits a mistake, students should learn from it and do not repeat it in their lives. If a student fails in exams, despite thinking & regretting, he/she should learn from his/her mistakes and work harder to achieve better marks next time.
Find Their X-Factor: Having a role model could help your students in finding their passion or their x-factor. For instance, children generally admire someone who is different from others, who does something that usually nobody does; someone who has some kind of x-factor.
Admiring such a person could help them understand their uniqueness and what they have un-common or extra-ordinary in them. This could also help them in finding their right career path. 
Become A Better Version of Themselves: When your students imitate the person they admire, they become a better version of themselves. By following the values and actions of role models and learning from their qualities, students can improve themselves. 
Shoot for the moon, even if you miss, you'll land among the stars. by Norman Vincent Peale.
This means that even if we fail to achieve our ultimate goal, we can still get success in life. Similarly, if a student does not get 80-90% marks and end up getting 70%. This doesn't mean they can never get 90%. If they work harder and they will surely end up achieving their goals.
Insights into the Importance of Role Model By Pamela Ray Pawar 
We asked Ms. Pamela Ray Pawar, the Founder of The LearnEd Academy, Mumbai about the importance of role models in a student's life. Along with being a career counsellor, she is also a Life and Leadership Coach who works with students and women returners.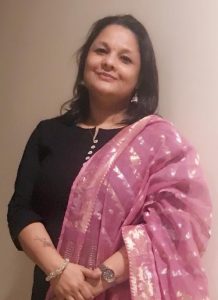 In her words, "When I establish an engagement with a new student, one of the important questions I start with is: Who is your role model and why? 
I've seen it's a great ice breaker and this gets them into a mode that is conducive to dialogue. For me – it's a great way to start a conversation and build trust. 
They love sharing stories, how they got to know about their current role model, why they can relate so well with him/her and why they wish to see themselves at a similar place. 
Yesterday during my session with Dhruv, a grade 10 student who wishes to pursue his career in dance, when I asked him about his career goals, he mentioned, he sees himself following the Kings United path ( a dance troupe who rose from very mediocre backgrounds to win various international dance championships. 
This proves to be a great support to me to figure out the values that he stands by and how far he can stretch himself. 
In short, along with other information, it also helps me as a career coach to guide him on making his career decisions.
Another example is of my student Kristen who is a grade 12 student and has set her eyes on management undergraduate courses abroad. She slowly and shyly shares with me how she finds Kylie Jenner as her role model due to the cosmetics' range that she has launched.
For me as a coach, it gave me a good perspective on how she thinks and who could be her motivators, of course keeping the entire counselling session flow and elements in mind.
I also recommend and share with them that we create more role models here in India, so that we no longer have to depend on the international magnificent icons like Elon Musk, Jeff Bezos or Warren Buffett n the likes.
We have so many interesting icons here who are veterans like Ratan Tata, Aditya Birla, Anand Mahindra, many more from various fields and the newbies like Kunal Shah of Cred, Rajiv Bajaj, etc. 
And yes the students can have new role models or icons every passing year depending on where they find their interests. I personally think it's a healthy habit to follow. 
As a career guidance professional, it's important for us to communicate with the student and know about their role models. It's healthy to look up to these individuals. Every two individuals have a different journey and the student will need to encash on his or her own authentic personality, skill, aptitude and attitude to achieve the goals that they set". 
Conclusion
These points show the importance of role model in a student's life. He/she can learn from their learnings and become a better version of themselves.
Being in the education industry for years, we understand the importance of role model. We know by following a role model, one can learn, grow and get success in life. 
Therefore, we offer various opportunities for students and career counsellors to collaborate and learn.
The Global Career Counsellor Program offers a private community the "Inner Circle" where 1000+ career counsellors meet, learn from each other and grow together. Some of them have become role model for others. You could also find your role model in the Inner Circle. Join this community to equip yourself with advanced career counselling skills and learn more. 
You could polish your counselling skills with the Global Career Counsellor Program by Univariety in collaboration with UCLA Extension. It is Asia's 1st Comprehensive Online Program for individuals passionate about Career Counselling.
To Know More About the Program Speak to Our Expert Advisor