Did you know that 2,400 students dropped out of 23 IITs between 2018-2019? 
The reason for dropping out of the college could be anything from the lack of interest, high fees to fewer career opportunities, etc.
Similarly, 6 out of every 10 students change their minds about career choices after completing their 12th.
What could be the reason? Same?
Possible!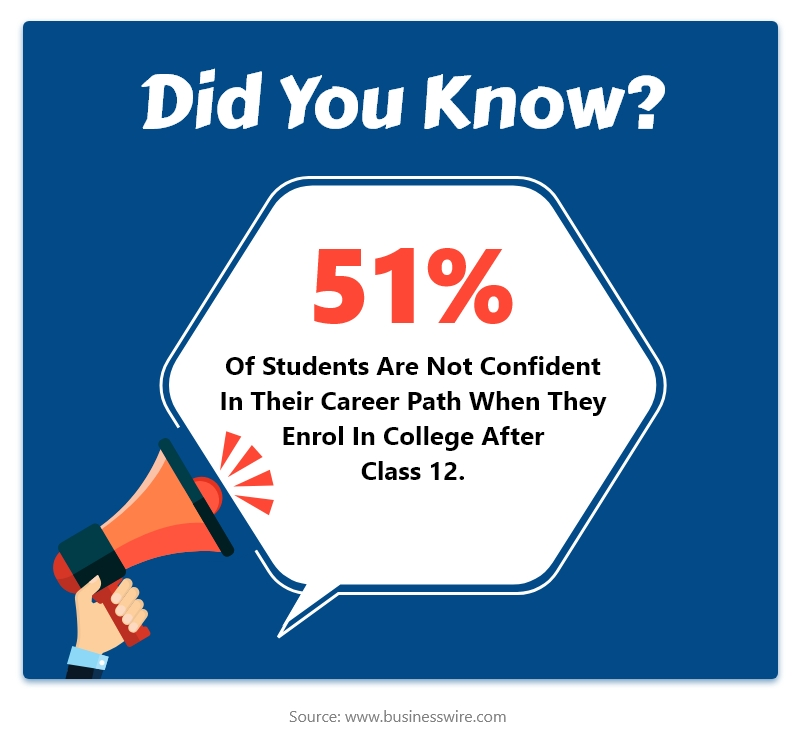 A common reason for both scenarios could be wrong stream selection after 10th. If students do not choose their stream wisely, they might end up changing their minds and leaving the course.
The process of proper stream selection is important. This means when a student is in class 10, he/she should start exploring his/her interests and making career plans. 
As career counsellors, you might face this challenge of suggesting the right stream to a student. Therefore, we have listed down some tips & tricks for stream selection for your assistance. You can read these tips and understand how to guide students to choose the best suitable stream after their 10th.
Common Mistakes Students Make While Selecting Streams
Stream selection is the first major step towards a child's future. It is the first occasion when a child gets the opportunity to make an important decision about his/her life. A stream not only includes the study of subjects for the next two years but a child's entire future depends on this particular decision. 
However, students usually make some mistakes while choosing a stream. Sometimes, they get confused and opt for any popular stream without knowing their interests and abilities. 
While counselling students on stream selection, make sure, they don't make the following mistakes:
Lack of Proper Research
If we look at a scenario 15-20 years back, there were limited career options available. People used to work in the education industry, medicine, engineering or opt for some other common profession. However, the current scenario is quite different. At present, India offers more than 250 career choices and students can opt for any one of them. 
But the majority of students and their parents are not familiar with these new career options. They don't do proper research to know what career choice is right for the kid. Lack of research makes them choose a stream that might not suit the child.
Ignore Their Interests and Follow Others
This is one of the common mistakes that most students make. In some cases, students don't have a goal, they select a stream with major advantages. They assume that this particular stream offers a wide career opportunity or they can earn more in this stream. In other cases, they follow their friends or parents' suggestions without knowing their actual interests. Therefore, they end up choosing a stream suggested by someone else. 
Peer Pressure
This is also a major reason for selecting the wrong stream. Many students take up a stream because their friends have selected the same to study. They don't evaluate their abilities or interests and blindly follow their friends. This could turn out to be their worst decision. 
For instance, three friends, Sanjana, Raghav, and Meera are studying together in class 10. For class 11, Raghav and Meera have decided to opt for the Science stream because they are interested in it. However, despite having an interest in Arts, Sanjana also ends up choosing Science. The reason could be peer pressure or influence as she doesn't want to study without her friends or she assumes the Science stream offers better career opportunities.
The reason could be anything but her decision of choosing Science stream without her interest could make her struggle in future. 
Follow Their Parents Dream
The other reason for choosing the wrong stream could be blindly following parents' suggestions. In the majority of cases, it has been seen that children follow their parents' interests without knowing theirs. 
Parents want the best for their children. But sometimes, they impose their career choices on their kids. Out of respect, their children also agree to choose the same stream that their parents suggest.
Rather following their parents' advice blindly, children should choose a stream that suits their talent and abilities.
Family's Socio-Economic Pressure
Parents' support and their economic condition play a major role in their children's career. These cultivate children's learning habits and affect their academic performance. Families from the low socio-economic status lack in supporting their children's career interests. For instance, a family with an agricultural background cannot afford their child's interest in studying medicine.
In another case, a well-established family where a father is a doctor would not allow his son to study Arts. This happens because of social pressure; father thinks that his son's interest in Arts would not help him to earn money. Or the society would not appreciate his decision of studying Arts as his father is a doctor.
These could be the cases where children purse for some other courses depending on their family's decisions.
Aptitude Mismatch
A big mistake that many students make is not getting their aptitude checked professionally. 
An aptitude test is a standardised assessment that determines the probability of a person's success. It helps in finding out a suitable career option for a child and the possibility of his/her successful career. This test provides the best career options for students and also confirms if the chosen career path would be suitable for him/her or not.
The aptitude test should match the child's abilities and the chosen career path. When students ignore this factor and select a stream on their own, they end up making a wrong decision. 
Ignore the Need for Professional Consultation
Often, parents and students don't realise the importance of expert advice to select a suitable stream. They don't take it too seriously and assume that they can alone choose the best career option. But this is not the correct way of selecting a career path.
It's important to seek professional advice from career counsellors or career guiders. They guide the student in the right direction and help to make the right career choice.
How to Help Students on Stream Selection After 10th?
Now that we have gone through the mistakes students make in deciding upon the right career path; it's easier to guide them and show the right direction. Tell them different career opportunities and what each of the streams holds for them in future. To simplify the process of stream selection, you can follow these simple tips:
Career Options After 10th
First, make them aware of different career options that they can pursue after 10th. The list is provided below:
Intermediate: This is the immediate class for students studying in 10th. In Intermediate, they can choose various combinations of subjects like PCM, PCB, PCMB, Commerce with Maths, Commerce without Maths, etc. The choice of the subjects may vary upon availability. However, these are the standard subjects one can choose in Intermediate.
After completing Intermediate, students can opt for any graduation course in multiple disciplines according to the selected subjects.
Polytechnic: This is a diploma course offered by various colleges and universities after completing class 10. Students can go for any diploma course like Computer, Chemicals, Mechanical, Civil, etc. This course can be of a duration of 3 years, 2 years or 1 year as per the guidelines of the college.
Industrial Training Institutes (ITI): If a student is interested in training courses, he/she can go for ITI for employment in Mechanical, electrician, electrical, etc.
Paramedical: This is also a diploma course. After passing class 10, students can go for paramedical courses like  DMLT (Diploma in Medical Laboratory Technology), DOA(Diploma in Ophthalmic Assistant), etc.
Know Their Interests & Check Aptitude 
You must have seen professionals cribbing about their jobs or daily grinds. You would never want your students to feel the same. To avoid this, it's important to know their interests and passions. Talk to them, listen to them and ask them which career field attracts them. Understand what subjects they like or which topic excites them the most.
Once you know everything they like and would want to do, assess their aptitude. As mentioned above, it is a standardised test that helps in determining the probability of a person's career success. It helps in understanding a student's ability to pursue his/her dream profession. 
You can list out the suitable career options for a student as per his/her interest & aptitude. 
Assess Their Strengths and Weaknesses 
After knowing the interests, passion, and aptitude of students, the next step is analysing their strengths and weaknesses. If a student has an interest in a particular stream but does not have the right skills and abilities, it would lead to a problem in future.
For instance, a student might be interested in arithmetic and opt for PCM in Class 12 where the syllabus is much-advanced, he/she will not be able to cope up with it.
Therefore, you must determine the strengths and weaknesses of a student before suggesting a stream. For this, you can use Univariety's Psychometric Assessments. The test includes various aspects like ideal career test, personality type assessment, multiple intelligence test, learning style test, and more. Analyse a student's plus and minus points then go for the next step.
Let Them Know About

Different Streams
In this step, you need to share the details of the various streams for class 11 and 12. These are majorly divided into three categories:
Science

Commerce

Arts & Humanities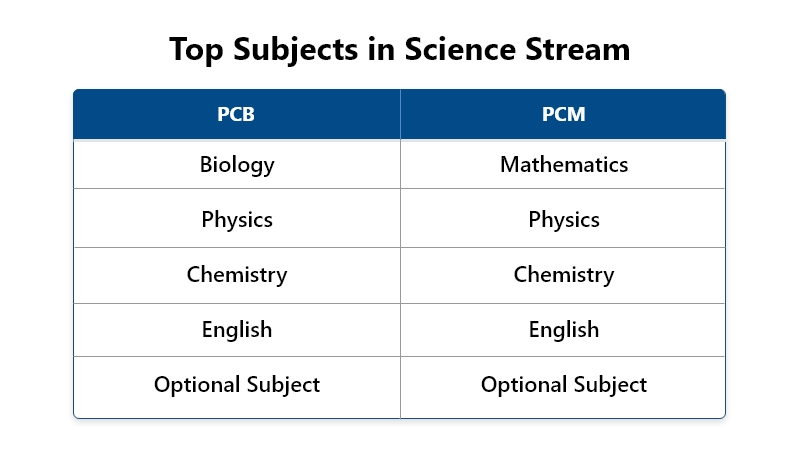 Science: If technology fascinates a student, tell them about this stream and its offerings. Different combinations of this stream are Physics, Chemistry, Maths (PCM), Physics, Chemistry, Biology (PCB), and Physics, Chemistry, Maths, Biology (PCM-B).
Students can become Engineer, Doctor, Scientist, Pilot, Teacher, Professor, Chemist, or join the Indian Navy, Indian Air Force, etc after studying Science in class 12.

Commerce: This is the second most popular stream. If a student like finance, economics, offer them this stream to study. The stream offers various subjects like Business Studies,  Statics, Economics, Mathematics, English, Accountancy, etc. After studying Commerce, one can become Chartered Account, Professor, Bank PO, Teacher,  Finance Manager, Bank Manager, Stock Broker, Marketing Manager, Economist, etc.

Arts & Humanities: Nowadays, this stream has become popular and many students have started opting for Arts in recent years. The stream offers various subject like History, Geography, English,  Psychology, Economics, Political Science, etc. One can become Teacher, Lawyer, Anchor, Professor, Politician, etc after studying this stream.
Know About Parents Expectations 
Once you understand everything about the child, it's time to talk to parents. Understand parents' expectations and their socio-economic status. Know their point of view about their child's career. Make them aware of their child's interests, his/her abilities, and what career options they want to pursue.
Bridge the Gap Between Parents Expectations & Child's Abilities
After consulting with parents and knowing their expectations, you can share your point of view. Build a bridge between their child's interests and expectations. Let parents know whether their expectations can be fulfilled by their child or not. Tell the child about the socio-economic conditions of his/her parents. Convince both parties and take them to a common ground.
In this process, you can share different real-life case studies. You could take examples of various popular faces (to connect easily) like Sachin Tendulkar and his son Arjun Tendulkar or Amitabh Bacchan and his son Abhishek Bacchan. Make them understand that in both cases, the first generation is an achiever but the second generation has not been doing so well in their careers. In this way, if a father who's a doctor wants his son to be a doctor (has some other interest), this could lead to professional dissatisfaction. Also, tell the child if the parents can afford his/her career choice or not.
After discussing these factors, take them to a mutual ground.
Regular Follow-up with the Child
Career counselling is a long process; it can not over in days or months. That's why a regular follow up with the child and his/her parents are necessary. Keep talking to them in intervals to understand their mindset.
Analyze Every Aspect & Suggest A Suitable Stream
Once, you follow all these aspects mentioned above, tell them what do you think about their child's career. After analysing all the factors, come up with some options for their child. What stream he/she should choose and what subjects he/she should opt for, etc.
These are some simple tips for career counsellors to guide a student in stream selection. Read these points and try to implement them in your next counselling session.
If you haven't joined this recession-free industry or want to upgrade your career counselling skills, go for the Global Career Counsellor Program. It is an industry ready course offered by Univariety in collaboration with UCLA Extension. 
This program has transformed more than 5720 careers. Why not yours?
Speak to Our Expert Advisor Today