There is chaos everywhere.
The Central Board of Secondary Education (CBSE) has cancelled the board exams of class 10 students and postponed class 12 exams for the 2021 session. The board and the government have taken this decision amid rising in coronavirus COVID-19 cases across the country.
This decision was made on April 14, 2021, in a meeting held by Prime Minister Narendra Modi with Education Minister Ramesh Pokhriyal 'Nishank' and CBSE officials.
People thought that 2020 was a year of bombshells. Cut to 2021 where we are witnessing historical decisions like cancelling and postponing the central board exams. 
Not only CBSE but ICSE and state board authorities are also in the favor of cancelling/ postponing the exams for the safety of students, the future of the country.
However, there are mixed reactions of students and parents to this decision. Social media is full of their responses.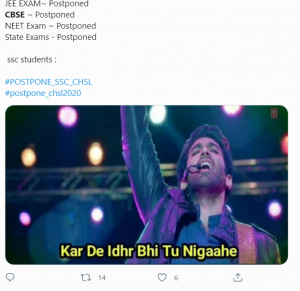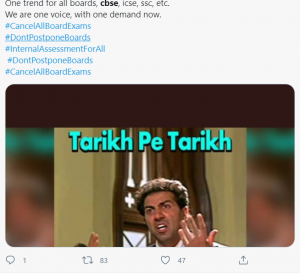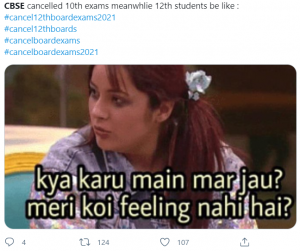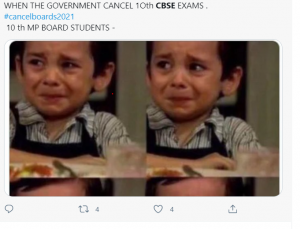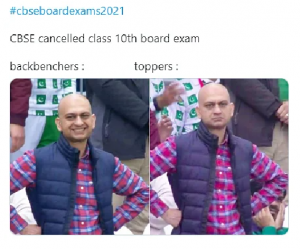 Students' Reaction on CBSE Board Exams 2021
Apart from this, students are worried about their results, future plans and the effect of exams cancellation and postponement on their career. They are clueless and seeking help from professionals. 
First, let's go through what students are feeling right now and what are their concerns.
Results
This is the first and foremost thing that students are worried about, "Results". They are watching the news, reading newspapers but are not clarified with the answers. They know that they will be evaluated on some objective criterion. However, they are not fully satisfied with it. They are worried about whether they will be given satisfactory results or not.
This the scenario of class 10 students.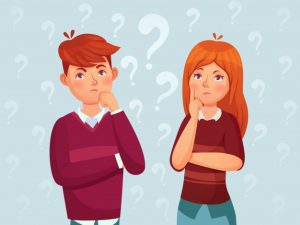 However, after evaluating the situation, the authorities will comment on class 12 board exams on June 1, 2021, and details will be shared subsequently. Students will get a 15 days notice before the start of the examinations.
Considering the current situation, class 12 students are clueless about the exams and results either. They don't know whether they will be appearing for the exams or not. And if there will be no exams, how will their results be evaluated? 
Change in Future Plans
Every student whether in class 10 or class 12 had some plan in their minds. But after the decision of the board and the government, they are totally confused. They don't know what should be their next move. 
We have categorized the concerns of class 10 and 12 students here.
Subject Selection: This is the main stress that class 10 students are feeling. With the announcement that all students will be given a general promotion, they are worried about the basis of subject selection for class 11. They think that they wouldn't be able to get a real assessment of the subjects and their capabilities. There is no clarity whether they will get the subject of choice or not.
College Admissions: Generally, students think of college admissions in class 11 or 12 itself. They start preparing accordingly. However, in this present situation, they are clueless about college admission. What would be the process? if they want to study abroad, they will be able to go or not? and more. Therefore, they don't know whether they should follow the same plan they had in their minds or change it?
CBSE Board Exams 2021: Parents' Reaction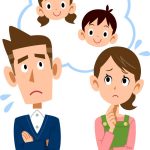 In this scenario, parents are also on the brink of a meltdown. They are doing everything for boosting the morale of their children and being their strength. However, deep down, they are also stressed. 
Though they know there will be some way of battling with the situation but they are still struggling for the solution.
How Career Counsellors can Help Students?
The students and parents are too confused and concerned about the career. As a career counsellor, it's your turn to make them feel calm and relaxed. You can talk to them, ask for their queries and come up with solutions. 
Let's explore how you can help them with CBSE board exams 2021.
Ask them to be Relaxed: When you are talking to any parent or student, listen to them. Let them express what they feel. Talking and sharing are kinds of therapies that help to be calm. Tell them to be positive, you are there for them and you will help them in every situation.
Make them aware of the Consequences: When you are done with the listening part, you can make them aware of the solutions. Tell them that the board will prepare class 10 results on the basis of an objective criterion to be developed by the Board. Any student who is not satisfied with the marks can sit in the exams as and when the conditions are conducive to conduct the exams. So, there is no point in being worried.
For class 12 students, ask them to wait for the board's orders. Till then, they can utilize their time and be productive in this duration. They can start preparing for any competitive exams (as they are also postponed) or they can go for any virtual internship too.
Help them in Making Future Plans: Here, ask them to work on their future plans. Guide them to make use of the Summers. Make sure that their summers are not wasted.
In this cause, Univariety and the Global Career Counsellor Program is always here to help. The students can opt for Univariety's various Summer Programs. Being in the education industry for years and dealing with lakh of students, Univariety has come up with a bunch of Summer Programs to help your students to be productive and utilize their summer break effectively.
There are programs that help students to build a college-ready profile, get a real-life internship experience from the comfort of their homes, receive certifications from big brands, etc.
For More Details on Summer Program, Click Here
Help students in this tough time, encourage them to take up exclusive programs, and make them future-ready!
To help and motivate students & parents, our Prime Minister Narendra Modi recently conducted the fourth edition of "Pariksha Pe Charcha".
He said, "It is not necessary that children follow the same value as their parents and that's why parents must not impose their thoughts on children".
We asked the opinions of various reputed career counsellors in this context. Look what they want to say about it.
These are some opinions of career counsellors on Prime Minister Narendra Modi's speech about parents and children.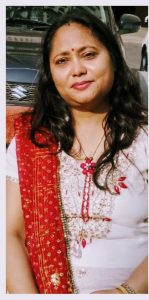 "Absolutely agree with the thought that parents should not impose their aspirations on their child. In fact, they should support their decisions and wholeheartedly accept the change.
I would like to mention about the clash of opinion generally happen when students move from grade 10 to 11. First with the stream selection and next with the choice of subjects. So as a career counsellor, we should bring awareness to make some change in society."
---
"Sad but true …. at times children are treated as medals and trophies to be flaunted by the parents on their achievements.. quite often the children seem to be carrying the burden of unfulfilled dreams and aspirations of parents .. having said that I also believe the best well-wisher of the kids are the parents themselves so whatever that they do is out of their concerns, love and affection. Thankfully there has been a lot of debates on this aspect and parents are becoming aware of the fact that each child is unique and they must nurture that uniqueness.
As a career coach, it's been my luck that most parents who approached me were the ones who believed in my mission of tapping the true talent than pushing towards an undesirable goal by a child. I give kudos to such parents ( I am one of them
) and my efforts will continue to create such awareness!!! I want my children to be successful but on their terms and not my wishes."
---
Parents can teach their children good Values, Respect, Kindness, Love and Support to THINK and give them the freedom to have that thought in order for them to grow holistically.
"A lot of people will do anything for their children, except let them be themselves" Banksy"
---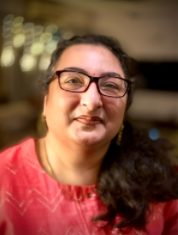 "As a counsellor, we talk to parents and students each day. We understand the anxiety of parents and their inclination towards conventional, assumingly safe and job centric careers for their kids and we also see the kids with thoughts and interests of their own, longing for their opinions to be heard and career dreams to be fulfilled. Sometimes, the two viewpoints are very diverse. The need is to help kids identify their true interests and recognise their multiple aptitudes. That's where we come into the picture. Our role is of a coach who draws a balance and presents career options that harmonize the four important pillars of a happy and sustainable career for the child. These pillars are interest, demand, aptitude & skills and earning potential. The parents today are more evolved and are aware of new careers and new paths and liberal methodology. They may have loads of doubts and concerns but they are cognizant of the fact that the education system needs a facelift, major overhaul to address the futuristic industry demands. Therefore, they are willing to listen to us and understand the new age dynamic educational environment."
---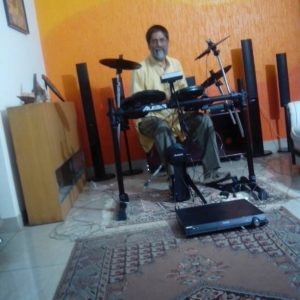 "We must understand that no parent would like their child to be unhappy in life. They want their child to have the best career and respect in life. They advise their child to take up the career with their knowledge and experience thinking best for him. They may be right or wrong but we must respect their reasons. It is a very thin line between " accepting that the child is telling with understanding and maturity, interest in the specific field" or "is influenced or have perception or apprehension and maybe fear of accepting specific career without having the facts and exposure ". Adolescence is the age when every child thinks he can conquer the world."
---
Being a parent myself, I understand that parents do show concern and have good intentions. But some do cross the line and can get imposing towards their child's aspirations.
I've noticed many times they are as affected by peer pressure as the students are.
Their knowledge base of careers and opportunities that exist, many times, is dated and they could have a stereotypical idea. Here, it is our duty to educate them about the dynamic changes that have happened in the education sector in recent times and about courses that are designed in a way to match many types of students' aspirations.
If there is a good career path and options worked out for the students in keeping with their aptitude, attitude, personality, skill, interest; there is a huge possibility that parents could be a little less pushy and allow their kids to showcase their true spark."
---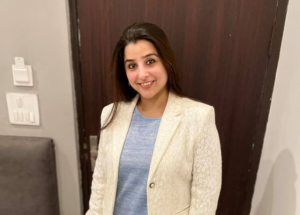 "Yes, most of the time I come across students who are been imposed aspirations of their parents and they feel it's their obligation to fulfil their parents' dreams.
I feel this is why most of the time we see students don't make it big time in their career. It's important for students to understand that Map is not the territory and the same goes with parents. In the end, 20-21yrs of hard work and labour to educate a child fails when they are been pushed into something they don't have the aptitude, personality or interest in."
---
Motivate students in the current scenario, guide them well and make a difference in their lives. However, if you are passionate about helping students and want to make a career in career counselling or want to improve your counselling skills, become a Global Career Counsellor.
The Global Career Counsellor Program by Univariety in Collaboration with UCLA Extension is an industry-ready program. It has helped 6,723 individuals to kick start their journey as a career counsellor, 5,720 to polish their skills, and 678 to set up their own business so far.
What are you waiting for?
If you are one of these passionate individuals and want to know more about the program,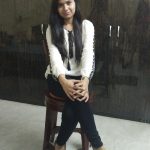 Parul is an enthusiast writer, currently working at Univariety. Despite being from a technical educational background, she started her career in writing because of her passion. She loves sketching and doodling while enjoying a cup of black coffee. When she is not writing, she likes watching movies, travelling, and exploring new places.