The application process for grad school can be stressful and time-consuming. If your student doesn't plan ahead enough, he/she may face critical deadlines, not have enough choices, or end up applying for any random grad school. Many students worry about on-paper credentials such as test scores, GPAs, and awards. While those are certainly important details, many graduate schools prefer applicants who have relevant experience, clearly defined academic and professional goals, and a track record of showing genuine interest in their chosen field. Therefore, read this blog and understand how to help your students in applying for grad schools. 
When to Apply for Grad School? 
Each graduate program has its own application deadline, so research the specific programs that interest you before beginning work on your applications. Generally, applications for most grad programs don't open up until about 9 months before you would start school. However, grad school will likely be on your mind sooner, and you should start setting yourself up for success long before.  
Also Read: How is Career Counselling Helping MS Aspirants to Get Admissions in the US?
Here's what your grad school application timeline should look like: 
2 years before grad school: Start planning. Research schools and narrow down your interests.  
1 year before grad school: Start preparing. Take the GRE, begin gathering your application materials, and look into financial aid.  
9 months before grad school: Apply. Get your application in as early as you can.  
6 months before grad school: Decide. Weigh the pros and cons of each school to which you've been accepted and decide where you'd like to matriculate.  
What Are Grad Schools Looking for in Applicants?

 
An admissions committee's goal is to identify applicants who will become good researchers and leaders in their field and on campus. In other words, admissions committees try to select the most promising students. They want students who have the ability to become an excellent graduate student and professionals.  
The list below highlights five characteristics that graduate schools typically look for in an applicant.  
– Ability  
Professors in your prospective department will want to see that they will be able to work well with incoming students should they accept them. 
– Academic Compatibility  
Admissions committees will assess your academic interests and plans in relation to what the department has to offer.  
– Original Thoughts  
Admissions committees highly value students who can develop and articulate original ideas.  
– Investment in the Process  
Graduate admissions committees want to know if you are invested in the process of earning an advanced degree, not just the job you hope to get after graduating.  
– Passion  
 Admissions committees want to see that applicants are passionate about and genuinely interested in the field they are planning to study.  
Align Graduate School Goals with Career Goals

 

 

 
Before investing your time and money in a graduate degree, it's important to explore the degree programs offered at different institutions. Finding a degree path that complements your personal preferences and aligns with your future plans is the first (and most important)  step when setting career goals. You'll want to make sure the school you choose is a good fit for you and that the degree can help you build on your existing career experiences or start working toward new ones.  
Once you feel confident in taking the next step toward graduate school and your career, you can make more specific plans to reach your goals.  
When you first start your search, it's important that you set and keep goals. Start by thinking about your passions and natural talents. Next, list all the jobs that you've had in the past and make a list of the pros and cons of those jobs. This will help you figure out your work style and the types of places you like to work, which should help you narrow down careers. 
Set SMART Goals  
When you set out to turn your career aspirations into clear-cut steps or goals, it's important to make sure they're SMART—that is, specific, measurable, attainable, relevant, and time-bound. 
what is your specific career goal?

 
What grades do you need to measure up against to get into the program?  Can you attain the knowledge needed to finish the degree? 
Is the program of interest relevant to the career you want?  
When do you hope to graduate?  
Breaking down your steps into SMART goals can help you reach your ultimate destination of graduating and moving forward in your career. It can also equip you to tackle unexpected tasks or things that arise during your journey.  
Setting career goals is paramount when deciding to pursue a graduate degree. When your student sets attainable goals, he/she can confidently take that next step in his/her career. 
The Global Career Counsellor program helps you to start a career as a Career Counsellor in just 50 hours. It is a unique course designed by Univariety in collaboration with UCLA Extension. Learn the latest counselling techniques from around the world, gain credibility through an international acknowledgement of repute, and set up your business right at home.
Over 6700 professionals are already benefiting from this industry-ready online career counselling course, when are you starting?
Now? We thought so. 🙂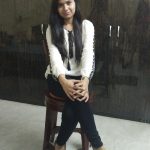 Parul is an enthusiast writer, currently working at Univariety. Despite being from a technical educational background, she started her career in writing because of her passion. She loves sketching and doodling while enjoying a cup of black coffee. When she is not writing, she likes watching movies, travelling, and exploring new places.