Sports are always symbolized as Health & Fitness activities. Most of the Indian population plays sports. Out of them some play for keeping themselves fit while some out of passion. Sports as a career has always been the dream of many and a questionable career. According to the majority of people, sports can be pursued as a hobby but not as a career. Well my dear friends this is a myth that we need to debunk.
Sports as a career offers a plethora of opportunities and you, as a career counsellor, cannot only guide your aspiring students but also motivate them to make their career in this field. Career opportunities available in sports are a sports person, sports coach, sports journalist, sports photographer, sports public relationship manager, sports administrators, sports entrepreneurs, sports academicians, umpires/referees, sports medicine, sports psychologist, sports nutritionist, physiotherapists, sports analytics, sports goods & merchandising, and sports governance.
Career Path
As Counsellors, we can guide students according to the career options they can select from their streams. For becoming a physiotherapist, medicine, or nutritionist, a student after 10th should opt for a Science stream (PCB) with Psychology as a subject. For Medicine, Physiotherapists opt for MBBS and PGD courses in the specialization field. For a Nutritionist, one should opt for B.Sc Nutrition.
To be a Psychologist, you can opt for Humanities stream or Science (PCB) with Psychology after 10th and then opt for B.A. Psychology or B.Sc. Psychology according to the stream selected.
To pursue a career as a Sports Administrator, Sports Entrepreneurs, Sports Goods & Merchandising Provider or Sports Governance, a student must pursue a Commerce stream after 10th and then opt BBA in Sports Management.
For Sports Photography, Sports Journalism and Public Relations, one should opt for Humanities in their 11th & 12th and then opt for a Bachelor's in Journalism & Mass Communication. For Public Relations, one can pursue MA in Advertising & PR as that will carry credits and make a profile strong.
To become an Academician, Umpire, Referee, Coach, Sports Person or Analytics, one can be from any stream in 11th & 12th having Physical Education as a subject and then opt for B.Sc. Physical Education. 
As a career counsellor, you can even guide them in activities related to the Career Option they want to pursue. For Eg: if a student wants to be a Sportsperson then he/she needs to be actively playing that particular game and should make their presence on the District level & State level. They should take part in all competitions and events held at any level so that their ability and face should be recognized. Then one can get a chance to play for the Nationals.
In the same way if one wants to be an Analyst, he/she needs to follow the game carefully, collect data, how many tournaments are played in a year, what teams take part, all records maintained, trophies won, lost maximum matches against which opponent, etc. A scrap file can be maintained with newspaper & magazine cuttings.
Such activities not only keep them close to their career prospects but also help them build a strong profile.  
Eligibility Criteria: 12th from the respective stream. Some Institutes give admissions on a merit basis & some on an entrance test conducted + student's 12th score.
Colleges & Universities
There are several colleges/universities that provide sports courses and career opportunities. There's a separate scholarship also for students who participate in sports.
Netaji Subhash National Institute of Sports Medicine recognized by MCI offers 2years PG Diploma in Sports Medicine which is taken after MBBS

Guru Nanak Dev University, Amritsar offers MD & PhD in Sports Medicine

All India Institute of Hygiene & Public Health, Kolkata offers MD

Sri Ramachandra University, Chennai offers MD 

Sports Academy Association Of India (SPAA India) offers courses like Online Teachers Certification in Sports Management (National/International), National Certificate Course for 9th to 12th Grade students, PG Executive Programme in Sports Management, BBA & MBA with Certificate in Sports Management.

National Academy of Sports, Mumbai

NSHM, Kolkata

Centre for Management Studies, Jain University, Bangalore
Top Recruiters
National Football League (NFL)

National Basketball (NBA)

Major League Baseball( MLB)

Ladies Professional Golf Association (LPGA)

NASL

NAIA

IISM

Nike

Adidas

Reebok

Puma

Indian Hockey Federation

BCCI

Pro Kabaddi League

Indian Premier League

International Ice Hockey Federation

Indian Hockey Federation
Apart from this one can apply in various Sports Academies, schools, and clubs as a trainer, coach, or administrative.
There are also big companies that are into manufacturing Sports Goods too like Cosco (India) Limited, Nivia Sports Private Limited, Vinex Sports, Sareen Sports Industries, etc.
As a counsellor, you need to give all these details to the child so that he/she gets a clear idea of sports as a career and does not have to suppress his/her passion or dream. 
Usually, it is the parents who are a little worried about giving a secure future to their child and they are not wrong. It is our job to show them options and scope for the field that the child aspires for. Once they get a transparent picture, they will also happily support the child and his/her dream.
This was all for how's sports a career. If you want to guide your students well, it's time to get yourself trained as a career counsellor. And if you want to make your career in the career counselling field, become a Global Career Counsellor. It is an online career counselling course offered by Univariety in collaboration with UCLA Extension. People from different educational or professional backgrounds come, get themselves trained and live a fulfilling life. Over 6500 people have already transformed their careers. What about you?
To Know More Speak to Our Expert Advisor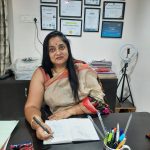 Ms. Sonia Achantani is a trained Global Career Counsellor and All India Educators Forum AIEF Resource Person. She has counselled 2500+ students within a span of 3 years that includes everything from guiding students for their stream selection to helping them shortlist colleges. She holds a good 11 years of teaching experience before she started full-fledged counselling. She also guides Professionals at various levels of their lives about the copious options available for them to explore. Moreover, she is also associated with a number of NGOs working to uplift the downtrodden and create awareness in society.