As we all know that there are 3 streams available after the 10th and those are Science (PCM/PCB), Commerce, Humanities/Arts. But when it comes to choosing a stream, we see many students opting for Science and when they are asked why they opt for Science, 80% of them don't have an answer because it is either due to peer pressure or parent pressure or in some cases these students were even not aware of other streams existing. Students even say that the other streams don't hold that value as Science does. And this is the reason why commerce & Humanities are streams not by choice. There are several other myths about stream selection that are debunked in this article. So, please read this write-up carefully and clear all your myths about stream selection.
Parents and students actually are not aware of the fact that all the 3 streams hold equal value. Each stream has its own scope and importance and you have to put in equal efforts in all.
As career counsellors, it is our duty to bring out the importance of all the 3 streams and also tell them about the subject choices they have. By doing this, we not only help them in choosing the right stream and subjects, but we also help them to be good human resources in future. It is believed that above 90% scores, the students should select Science stream. If their scores are around 80%, choose Commerce and below 70%, students shall go with Humanities. However, this notion is completely wrong.
We are career counsellors and we know which subjects can help students in making a strong career base. Then why should we not guide them accordingly? I have seen a few students coming to me with science stream and wishing to pursue CA, or want to become a Businessman or an Entrepreneur or take up Marketing, Finance, and HR-related fields, Commerce is the best choice for them as those subjects will help them with a good and strong base for such fields. Similarly, for a student who needs to go for UPSC (i.e. to join IAS/IPS/ IFS/IRS), Humanities is the best choice as the subjects you get in Humanities give students a good base and help them prepare for UPSC exams well in time. Even for Journalism & Mass Communication, Performing Arts, Fine Arts, Languages-Humanities is a good choice. In the same way, if a student is interested in being a Doctor, Engineer, staying connected with the medical field or technical field, yes Science is the right stream to choose. 
If the student comes up to you and says that he wants to take up Science as a stream but aspires to be a Writer or a Poet and is very strong and firm on it because he has a flair to write, you should be able to make him understand that Science subjects will not give them that base instead he should opt for Humanities and focus on linguistic skills and creative writing skills. Humanities is the only stream through which they can complete their Bachelors in Languages or opt for Journalism and Mass Communication to write for newspapers or magazines.
Let's take another example where a student comes up to you and says she wants to do law after the 12th. Since there is pressure on her to opt science stream, she would opt for the Science stream on the 11th & 12th. Well, here you need to first understand what type of law the student is interested in & how passionately she wants to pursue this career. These are small details & observations that help a career counsellor to understand a student's mindset. If a student says that she wants to study Corporate Law, yes Commerce is the best stream in 11th 12th. You will have to put in that extra effort to explain your point in front of students as well as parents. You will need to make them understand why put forward this mind and how beneficial it will be for her as she aspires to do Corporate Law. You can talk to them about the career path that is Commerce stream after 10th and BBA LLB after 12th. 
As career counsellors, it is our duty to build up a rapport with the student. Only then we can get to know about the students' likes, strengths, weaknesses & dislikes. We need to tell them about all the hick-ups, challenges, hurdles, etc they might have to face after choosing the wrong stream & subjects because the subjects and stream they choose after 10th will be the base for career prospects in future.
Now when these things are put forth to the students and parents and they are guided to follow a path wherein they can explore their strengths, capabilities, likes and interests for a subject, then only students can make the right choice in selecting a stream.
We, as career counsellors, need to give clear guidance to students by providing them with a list of options available with them; for example, if they opt for Science what options are available, in case they opt for Commerce what options are available and if humanities, what career options they can choose from. By doing this, we create a clear vision in the minds of parents as well as students and it makes the path easier for them to choose the right stream as per their subject interests and career option.
These are some simple myths about stream selection. Consider these facts and try to implement them in your next counselling session. Help students in finding the right stream accordingly.
If you love guiding students and haven't joined this recession-free industry, upgrade your career with the help of the Global Career Counsellor Program. It is an industry ready course offered by Univariety in collaboration with UCLA Extension. You will be receiving a Green Belt Certificate from Univariety and a Record of Participation from the UCLA Extension after completing the program. With this Green Belt Certification, you will get global recognition and validation for guiding students. This program has transformed over 6700 careers. Why not yours?
Speak to Our Expert Advisor Today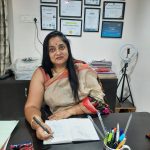 Ms. Sonia Achantani is a trained Global Career Counsellor and All India Educators Forum AIEF Resource Person. She has counselled 2500+ students within a span of 3 years that includes everything from guiding students for their stream selection to helping them shortlist colleges. She holds a good 11 years of teaching experience before she started full-fledged counselling. She also guides Professionals at various levels of their lives about the copious options available for them to explore. Moreover, she is also associated with a number of NGOs working to uplift the downtrodden and create awareness in society.