This is not the first time, we have talked about the importance of psychometric tests for career counsellors several times. But this time, we have come up with real-life examples of our trained Global Career Counsellor and her students who have taken up psychometric assessments.
Read the blog till the last, if you like it, please let us know in the comment section below.
You might believe us or might not that psychometric tests are necessary when it comes to finding students' interests, passions, likes and dislikes. To make it more understandable, we are sharing real-life examples, and case studies of students who have taken up psychometric assessments. See how these psychometric tests helped career counsellors to explore students' aptitude, interests and personalities. 
Before going into depth, here's a quick recap of the importance of psychometric tests. Let's start with understanding what are psychometric tests. 
Table of Contents
Psychometric Assessments
A psychometric test is a scientific way to identify the existing skills and interests of students to assess their personalities. Univariety offers a bunch of psychometric assessments that help career counsellors to discover everything about students and accordingly they can suggest to students which career path to take.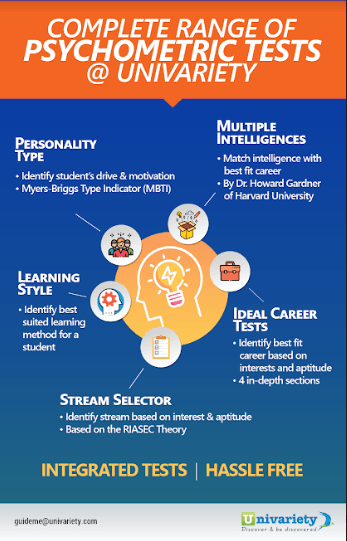 There are mainly eight types of psychometric tests available:
Ideal Career Test

Personality Type Assessment

Multiple Intelligences Test

Engineering Branch Selector

Humanities Career Selector

Commerce Career Selector

Learning Styles Tests

Stream Selector Test
Read Here to know more about the Importance of Psychometric Tests.
Currently, over 50,000 psychometric tests have been conducted. These tests offer a 21-page detailed report containing aptitude and interests matched with best-fit careers.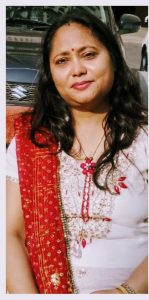 Ms. Anjali Drolia, Career Coach and Senior Educationist has shared some insights about these psychometric assessments. Let's read about the importance of psychometric tests and how these assessments have helped Ms. Drolia so far. 
An aptitude test is a psychometric test that evaluates the student's ability in logical reasoning, verbal ability, spatial ability, and numerical ability. Psychometric is derived from the word-Psyche means mind and metrics mean measurement. Psychometric Test adopts a four-point rating scale to capture the responses of students accurately. The questions created are student-centric and relevant to 21st-century opportunities.
 A Psychometric Test Report includes:
Information about each Interest Field

Assessment of student's Aptitudes and how to improve them

Aptitude required to excel in each Interest Field

Higher education options after 12th Standard to help students take the next step

Tips to make an informed career choice
All of us like doing something – whether it's singing, playing chess, or assembling things. We just don't know how our interests can turn into a career that we love. With the help of the Psychometric tests – Career Assessment Test report, you will be able to identify what a student is inclined towards.
The Career Assessment Test is one of the best tools for making informed career choices. Be it confusion about which stream to take after class 10th, or what career to pursue after 12th, career assessments have an answer.
Criteria for a Psychometric test are reliability, validity and standardization. However, the student must attempt the test honestly and with spontaneous answers. The ideal time for appearing for an interest and aptitude test is in grade 8th. You can repeat the test in grades 10th and 12th since, with exposure and awareness, students' interest areas might undergo some change.
CASE STUDY 1
ENGINEERING BRANCH SELECTOR
In one of my counselling sessions for a student who is currently pursuing grade 12 with PCM (along with computer science) and preparing for her entrance exams, while communicating with the child I discovered that Chemistry and Mathematics were her passion areas whereas Computer Science and Physics were comparatively less likely as her favourite subjects.  After the counselling session, I advised her on Engineering Branch Selector Test as it would help her choose the preferred engineering branch among the plethora of engineering branches that exist today. The test evaluated her interests and capabilities along with four fundamental aptitudes of an engineer namely spatial, closure, mechanical and logical. 
My parents were very reluctant about the branch of engineering till I did Engineering Branch Selector Test. The result was shocking and different from the parent's expectations. Computer Science Engineering was her dream career. According to the report, her aptitude and true potential were reflected more in Agro-based and Chemical-based branches of Engineering rather than Software Engineering. 
So, I, as a career coach and counsellor, took this report and its analysis very seriously as it is scientifically designed, formulated and customized in a unique manner. I tried to think from the perspective of the report and verbal communication with the student and reworked the strategies based on her capacity, strength and calibre. 
I would like to thank Univariety and its product Engineering Branch Selector Test which helped me to counsel my client better based on my true interests and guided me in the selection of the right branch of Engineering.
Student's Feedback
The engineering branch selector test was very helpful to me. Before taking this test, I was a bit confused about my branch of Engineering but this test solved my confusion.
The last point, in my opinion, Ms Anjali Drolia was very helpful and guided me throughout the counselling session in clearing all my doubts, that is what sets her above all her contemporaries. I genuinely prefer this test for all the engineering aspirants to take the test to make an informed choice of branch of Engineering out of a plethora of available options.
CASE STUDY 2
COMMERCE BRANCH SELECTOR
In another session with a student studying currently in class XII, Commerce stream who was absolute confused about the career to choose after grade 12. He could not identify his strengths either in the finance or non-finance domain. After successive counselling sessions and communication with the student, he understood his passion, dream, interest and performance in school assessment. It was clear he has less interest in Maths and that was the reason he was even willing to switch over to a career in Law or humanities. 
Then I suggested to him Commerce Branch Selector Test as it would help him choose the preferred commerce domain among all the financial and non-financial domains in Commerce. The test would also evaluate him on his interests and capabilities. The test has been prepared using scientific techniques and measured for statistical accuracy.
When I assessed his report, it was in sync with his interest and aptitude. The report in the graphical form reflected many career options based on higher interest levels in the finance domain.
I would like to thank Univariety and its product Commerce Branch Selector Test helped me to counsel my client better this time also.
Student's Feedback
My name is Sahil Drolia and I am a student studying currently in class XII of M.C. Kejriwal Vidyapeeth, Liluah. I came across this service from Univariety through their Student counsellor Anjali Drolia. It helps young students with their career choices and being confident about their decisions. I chose the answers on the Psychometric Test honestly thinking about what suited me the best. It helped me conclude the confusion I had in my career choices and I would highly recommend it to any junior thinking about taking up the test.
CASE STUDY 3
IDEAL CAREER TEST
This student is from PCB (along with Physical Education), currently studying in grade XII at a leading school in Kolkata. On communicating with the child, I realized that the student opted for the Science stream without any clarity of career options. While interacting, I understood the confusion in the child's mind which has eventually affected her performance in various assessments conducted by the school over the last two years.
I suggested the Ideal Career Test that helped her better understand her strengths and personality along with identifying the best 3 careers for her. Moreover, the detailed report also assessed and identified her areas of improvement, skills, values and personal characteristics.
The report is divided into 4 sections. The motivation section identifies the top 3 factors that help her perform better at work. The aptitude section evaluated verbal, numerical, spatial, critical dissection and acuteness aptitude. The interest section utilizes the RIASEC theory for suggestions that careers that will be of interest to her to keep her motivated. The personality section evaluates her personality type.
This test has helped me to counsel the student better and I believe it is a reliable tool for any career counsellor for first-hand counselling sessions with a student.
By reading the above insights, you can understand the importance of psychometric tests. You can get an idea about what these tests are and how do these help career counsellors in finding students' interests, aptitude, capabilities, likes, dislikes, personalities, etc.
If you have the zeal to guide students in making career decisions, become a Global Career Counsellor. It is an industry-ready program offered by Univariety in Collaboration with the UCLA Extension. The program helps individuals to enter the ever-green career counselling industry and polish their skills.
Know More About Global Career Counsellor Program