Covid -19 has drastically changed and affected the education sector all over the world. At this time, the world is in an equal state now -"Equality in Suffering". Lockdown on globalization from economy to education has been adversely affected. This has led to the condition New Normal, i.e. 'Online Learning' which we all are aware of.
Are the students, happy with online classes? No. Not at all. They are missing out on the fun, excitement, motivation from their teachers etc. Playing, sharing food with each other, etc are at present considered dangerously infectious. Staying away from each other is NEW LOVE (another NEW NORMAL).
Lockdown for the first time, brought
Million-dollar smiles on the students' faces.

Holiday mood.

Anytime TV.

No Tests and deadlines for the project. 

Felt lucky, to be the generation, to enjoy such a wonderful opportunity and so many other reactions, that is exactly the opposite reactions of the parents.
Of course, kids are kids, it took them time to realize, whatever they believed was fun and relaxing, did not provide the expected excitement. They started missing the friends and school. New Normal, of studying online, did not impress them much. No direct warnings from the teachers. They missed all the beautiful experiences. And this led to,
Depression

Crankiness 

Anxiety, as their elders themselves, are uncertain about the situation.

Understanding the pandemic situation much worse than it already is.

Either too serious about the present scenario or too lethargic and so on.
Role of a Career Counsellor in Making Student's Future
Students started missing the learning atmosphere, traditional set-up of blackboard, charts, interval bells etc. They started missing the music of the school atmosphere (bells, whistles, claps, pats etc). As education counsellors, we should make the parents understand, what to anticipate in the child's behaviour during this time. And how to be supportive. Many parents will be aware of the same. But when they are informed professionally, it will definitely bring some changes in their approach. There is always a chance to miss out on the connection with the children when there is a greater worry for the parents, that is the financial management to keep the boat stable and sailing. It is the time, where counsellors also should act as a mediator between the Pandemic-Students-Parents.
Towards the student as a professional counsellor, we have to make the student realize that the present scenario is not going to be the same forever. Even though the forecasts are gloomy in the current times, India is expected to overcome Covid-19 impacts faster and will emerge from this looming economic crisis in a much stronger position than before"- (India Today)
Let the senior students be ready to face the challenges and opportunities, by upskilling themselves to reap the benefits later.

Make them aware of the internships programmes like Virtual Internships, Summer Programs, etc.

Make them face the situation in a better way than being in panic mode and uncertainty mode by taking up short time courses online and engaging themselves in the project works.

Let the students be ready to be a part of the newly emerging growth in the sectors that will be in high demand.
As per the article by Dr. Lakshmi Mohan (Director –Business school) in INDIA TODAY, 5 sectors will be in high demand in the post covid era. They are, Edtech, Healthcare, Fintech, OTT and Online Gaming, E-Retail and E-Commerce. Given the idea, we counsellors can guide the students to choose the courses based on the options given and raise their hope to face the future in a much better way. There will also be many more options to choose from. Hence, guiding the students, to utilize the present time in the right way is in the hands of counsellors. 
Students in Abroad:
The COVID crisis has revealed that international students are often less financially secure than their payment of higher tuition fees might suggest. Even after COVID recedes, it will take time for the students to go back into normal life when compared to the domestic students. They will face high competition for jobs. They will be analyzing the situation more carefully than before, for
National policies enabling them to work and study.

Postgraduate opportunities

Cost of travelling and living

Scholarship Opportunities and so on.
Students are confronted with more challenges than they used to be. Interrupted education programmes, uncertain job prospects, deteriorating mental health and finances. Understanding the given situation, students can be kept informed about the choices around student services, programme development and other available options, to which the counsellors are more accessible to get the information from the universities we are representing. 
This is the time to make follow up with the students and parents, who will now be on our old client list. I feel it is time to get back in touch with them and ensure their safety and follow up with the current scenario from a student's point of view.
Also, the students in abroad studies are in need of some guidance, mentally and strategically and someone to let them know about the opportunities to come. So far, this is the best we can do for them. Help them cross this tough time. We have our own understanding of our students. Get back in touch with them. Let it be the first step and good and best will follow later.
Current students with offer letters are a little hesitant to accept the offer and do the course from their home country online. Yes, this definitely, will not give the same excitement, and little anxieties about travelling to a new country, butterflies in the stomach. 
But it differs from case to case. A solution to one student will not be the same for all. Depending on their background. Students can be given an idea, either to take up some online jobs or courses in case of deferment of the offer while they wait for the borders and embassies to open. There are few universities that have introduced application fee waivers for those in need of financial assistance. Some universities are also planning to postpone opening their campus, defer a semester, or conduct classes online.
I understand that they are in a much-confused state and dilemma than they were when they first approached us for career counselling. Though the education industry, abroad consultancies may miss the busy business time in the present scenario. But this is the time, where counsellors have got more responsibility towards the student's future and career. We know that we are the ones who can give them the right information at the right time. And let us keep doing it.
This way, we can help students in making their dreams come true. If you want to help kids in finding the right career path in this situation, having the right knowledge and validation are most important.
If you want to enter this ever-green career counselling industry or polish your counselling skills, become a Global Career Counsellor.
The Global Career Counsellor Program is Asia's 1st Comprehensive Online Program offered by By Univariety in Collaboration with UCLA Extension. This program is the best choice for individuals passionate about Career Counselling. Give wings to your career and become a trained Global Career Counsellor.
Know More About the Program, Speak to Our Expert Advisor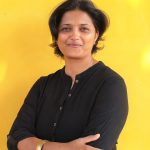 Ms. S. Prema Devi is an MSW from Madras School of Social Work and the Proprietor of BlueFeather Consultancy, based in Coimbatore. She is a Green belt Global Career Counselor. She has worked as a Project Coordinator in International NGO'S for 7 years. She has 3 years of experience as an Educational Counsellor and as a Branch head for a consultancy based in Australia. She has counselled more than 100 students to Australian and New Zealand universities.
As a Proprietor of Bluefeather Consultancy for Overseas Education, she networks with most Institutions in Coimbatore and IB schools in promoting abroad education opportunities.