Career counselling is one of the upcoming career paths in India. With the amount of information that is readily available to people worldwide, awareness about the importance of career guidance and counselling is on the rise. The perception that Engineering or Medical were the only two viable career options in India is changing; slowly, but changing for sure.
Students are spoiled for options; people are building successful careers in industries that have come to forth only in the last decade. With options, the decision to choose the correct path becomes all the more overwhelming. This is the gap that career counsellor helps to fill, align a student's interests, goals and ambitions with the correct career paths.
If you are looking to become a career counsellor or open up a firm for career counselling in India, now is the right time to do so. As per the current numbers, there are only 1 lakh counsellors for the whopping 350 million students. To meet global standards, India needs to have at least 14 lakh trained counsellors in the counselling industry to help the growing concerns of its students.
What are the 5 things you need to know before starting a career counselling practice?
Get Certified from a Reputed Institute
You can either contact an institute that offers classroom training or get certified with online career counselling courses, which you can take from the comfort of your home. Global Career Counsellor is one such online platform that offers various courses depending on your experience and expertise.
Certifications are important as the preceding training help you understand the nitty-gritty of the industry you will be working in. It helps add value to your credentials and build your profile up. It also helps build a trust factor between the counsellor and parents, as the later is aware the counsellors guiding their child make future decisions is trained to do so.
Decide on an Area of Expertise
Career counselling is a vast field, there are a number of factors to be considered when helping a student decide on their career goals. With new technologies being introduced in the market place on such a frequent basis, new tools are also being developed that help assess a student's interests and readiness.
Psychometric Tests is one tool that helps determine a candidate's interests, their ideal careers or what stream they should pursue. The tests and reviews in themselves can be a playing field. You can first start your firm which specializes in Psychometric Tests and then expand to other avenues.
College applications, Internships, Student Visas are different areas that you can look at. But, as a fresher it is advisable to focus your energies on a single task than trying a scatter-brained approach, running to complete everything on time.
Get a Business Plan in Place
The main motive of career counselling for students is to guide them to make the right choices in terms of their careers. Align a student's interest and life goals with career paths that would eventually help them lead a satisfied professional and personal life.
But you also need to understand that if you are setting up a counselling firm with the intent of making a profit, you need to have a business plan in place that will help you achieve your goals.
Scope out the competition in your area, see what services they are offering and their pricing structure. Do you need a dedicated office space or you plan on being an independent contributor and would prefer to work from home? How will you be handling the initial investment required to get your business off the ground.
Take some time to explore these questions and then put down the plan on paper before you begin.
Sharpen Your Networking Skills
Reach out to schools, colleges, tuition classes whoever can help you connect with your target audience. You can also hold workshops in community centers, residential areas and create awareness about the importance of counselling and how the services you offer will help children make informed decisions about their future.
You could also reach out to your own Alma Mater and different Alumni's you are part of, and offer dedicate services to the current batch of students.
Start-up and mid-level companies can provide internship opportunities. You can build relationships with such organizations which in turn can help you serve the students better.
Improve on Your Soft Skills
Career counselling in India is treated as a luxury than a necessity. Even if students do take tests or attend a counselling session, the likelihood of parents accepting your views with an open mind is pretty slim. You might face opposition and a strong sense of distrust.
In such situations, aggressive stances from both parties will only lead to an impasse. Thus, it is important you empathize with their situation and communicate your points in the best way possible
Click Here To Know More about Career Counselling Skills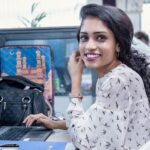 Sukriti is a Hyderabad-based Writer, covering the exciting world of Career Counselling and Entrepreneurship. She also writes about mega-trends in education, diversification for Teachers & other individuals with a focus on how innovation and upskilling can help them grow professionally. She is an MBA in Public Relations & Event Management. When she is not trying to understand complex changes & needs in the counselling and education industry, she enjoys travelling and watching movies with a cup of black ginger tea.