Started as a mutual venture between Univariety and UCLA extension, Global Career Counsellor, or GCC, has been cultivated as Asia's first extensive online program for those having a passion for pursuing career counselling. It is considered as one of the leading industry-ready career counselling programs in India with a number of 5720 career transitions from individuals starting a fresh new beginning in their profession. Interestingly, 678 of them have set up their own business as well! 
Fun fact: your background won't be a hurdle in becoming a career counsellor. In spite of a wide array of different backgrounds, from the education industry to management, there are numerous cases our GCC Program has encountered wherein people have converted their role into career counselling. 
Do you know what they had in common? Most certainly, it was their fascination towards guiding students into the correct, yet desired, career choice. 
Are you having the same diligence towards inspiring and mentoring students? Can you become a Career Counsellor?
Check your fitment score right now with our quick
Why Should You Consider Taking the Global Career Counselling Course?
As per surveys conducted exclusively by Univariety, 
Every single year, nearly 1 crore Indian students go for college admission after completing grade 12.

Correspondingly, only 25000 active career counsellors are available in India.

And contrastingly, 92% students are deprived of career counselling in their respective schools.
Based on the above data, it has been estimated that there is a desperate need of almost 15 lakhs career counsellors to adjust the student-to-counsellor ratio on an average in India. 
How Are You Going to Make a Change in Students' Lives? 
As Langstone Hughes righty put it, "I revel in the student's accomplishment, trusting that my partnering on the way has contributed to the success.", one of the best things about being a career counsellor is that you are going to have an opportunity of becoming a part of a child's life in such a profound way. 
It may sound so basic but it can prove to be much motivating for a student to be heard, loved and valued.
Thus, the impact a career counsellor can have on a student's life is astounding. To a great extent, a career counsellor can inspire students, helping them to transform their life into a fruitful future. To sum up a few, the following aspects can be mentioned.
Evaluate interest and personality inventories,

Utilize aptitude tests to determine what the students are good at,

Counsel students thinking of a career change,

Assess students' academic and personal background to figure out their future course of action,

Advise students about different educational programs and courses as per their suitability,

Help students decide the right college or university,

Help students find supportive financial sources for the upcoming expenses,

Inform students about entrance tests and admission procedure,

Help students to work in their stress and anxiety,

And finally, provide utmost to the students as well as parents.
Know more about 5 Essential Skills for Career Counsellor.
Let us now take a look at what some of our candidates have to say about the Global Career Counsellor program.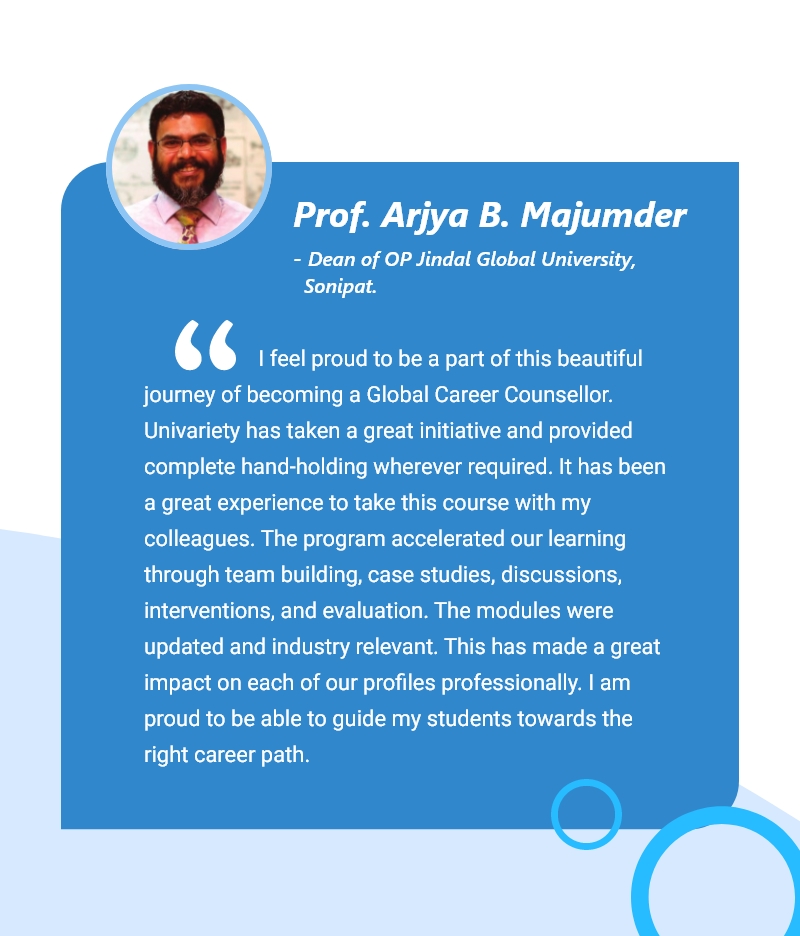 What are the Offerings of Global Career Counsellor Program? 
Advocated by the top schools and universities in India, Global Career Counsellor Program is an online comprehensive course consisting of the most effective practices, approaches and techniques, as well as the latest trends in the world of career counselling. It consists of a range of compelling components such as – 
Orientation Session:

Introduction to the overall dimension of this program including mission and vision of the program, login access, course of study, reading materials, timelines, tests etc.

Counsellor Training Modules and Assessments:

Preview of the GCC Program along with different national and international curricula such as ICSE, CBSE, IB, Cambridge, its patterns, offered subjects and future scopes.

 
Live Interactive Learning:

Insights into counselling skills for parents and students interaction.

College Planning Module and Assessment:

Enhancement of conceptual knowledge with practical exposure, including an introduction to career and college counselling, skills and techniques of expert counsellors, case studies and comprehensive quiz.

5 Real Case Studies (Audio):

Access to 5 different real student-to-counsellor calls for gaining problem-solving skills, analytical thinking and understanding. 

Psychometric Assessments:

Access to 8 samples of Psychometric Assessments for evaluation of the outcomes, This, in return, helps the counsellor to guide the students towards correct career paths. 

Live Workshops:

Along with Advanced Pedagogy, online/offline live workshops and events for gaining experience on the network, industry, educational and industrial trends, so on and so forth.

Specializations:

Although it's optional, counsellors have the choice of undertaking certain specializations to upskill their profile such as Premier Overseas Admission and Student Profile Building.

Convocation:

Celebration of the completion of the course by giving a record of participation from UCLA and Green Belt Certification from Univariety. 
A captivating and exhaustive career counselling course, isn't it? In addition to these features, you will have the opportunity to build a recession-free career by joining the Evergreen Education Industry. This will give you the chance to earn exponentially based on the in-demand products. 
Conclusion
The popularity and need for career counselling is growing at a rapid pace in India. Being the second-largest nation in the world with an increasing number of students, India is in dire need of effective career counsellors which will lead to a generation of successful kids. Moreover, the job of a Global Career Counsellor can be diverse as well as exciting as you get to meet with different students, each having their own talent and speciality. 
Therefore, the future of career counselling is brighter like never before. We encourage you to take a leap of faith and explore this unparalleled sphere of profession with the support and guidance of Univariety!
Submit your details and get a callback at the earliest by CLICKING HERE 
An avid zoophilist as well as a nemophilist, Monalee mostly prides herself for her unprecedented love for dogs and mountains. She is an M.A. in English Literature and highly inclined towards exploring the creative moieties of this EdTech world. When not writing, you'll find her petting the friendliest creatures on the streets.